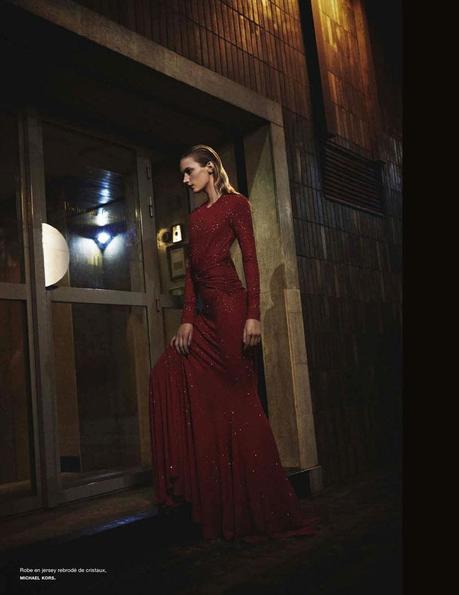 As this will be my final Frock Friday post for 2012, I thought I had better choose something New Year's party inspired! I haven't any plans for huge celebrations this year… but you know what? We can't all be party animals and I see nothing wrong with a simple evening-in, enjoying a nice bottle of bubbly (or two) with my favourite nibbles & watching the Sydney Harbour fireworks on the telly. I mean let's face it, I've seen the fireworks up close and personal many times and so I am content to watch them from my couch now!
And so, back to the frock, which is perfect for wearing to a fabulous New Year's Eve bash. Claret red, long, sparkly and sexy , model Sigrid Agren shines in this beautiful Michael Kors jersey frock for 'Nuit Blanche' as seen in issue 139 of Numéro, photographed by Yelena Yemchuk. Click on the image for more.
I'd like to thank you for stopping by and supporting I like, I wish, I heart over 2012. The world of blogging has changed a lot since I started in 2008, there are so many of us out there now and so I really appreciate it when I see comments and new followers as it keeps me going, keeps me inspired and keeps me real. My blog is my sanctuary, my touchstone and my zen. I love it and as I evolve, so does I like, I wish, I heart and I thank you from the bottom of my heart for being a reader, follower, for leaving comments and keeping it all real!
Happy 2013! May your year be filled with love, laughter, abundance, good health and prosperity.
Love & light,
Heidi xx
Leave a reply! Leave a reply!