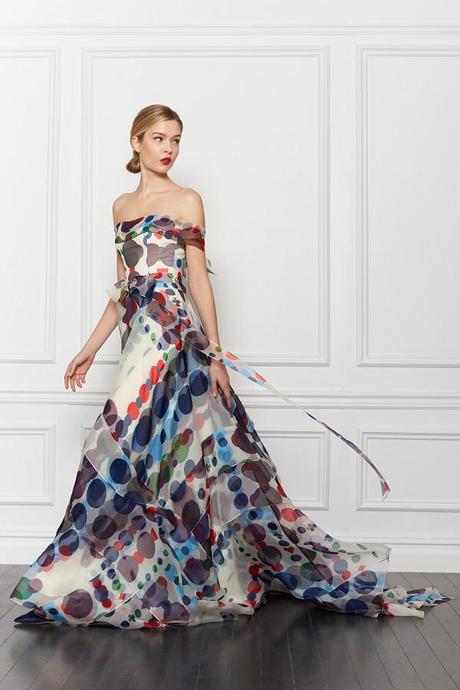 As Christmas nears I am increasingly drawn to frocks that remind me of the season. Whether it be tinsel or baubles, either way it's a decoration of some kind. This beautiful gown from Carolina Herrera Pre-Fall 2013 collection is no exception.
I read online that Carolina was inspired by night and day and she put this into her collection. "The result was an abundance of celestial motifs, from golden stars embroidered on a lovely navy gown to tarot card images on colorful dresses." – WWD.com . Click on the link or image for more of the collection.
How is your Christmas shopping coming along? I spent most of yesterday out and about and I only managed to make a small dent in my list. Very disappointed about that I must say because I was so hoping to get it all done in one day – believe me it can be done!  So today I am going to focus on finding recipes for our Christmas Eve party and Christmas Day lunch. I'm keeping lunch very simple this year. No duck, no ham, no over the top desserts. Just simple slow-roasted pork belly and veggies followed by possibly a pavlova or chocolate mousse. I'm not a big fan of turkey, I usually like to cook pork or duck. What about you, do you have a favorite recipe you save for Christmas lunch or dinner?
Have a lovely weekend. xx
Leave a Reply and let me know!