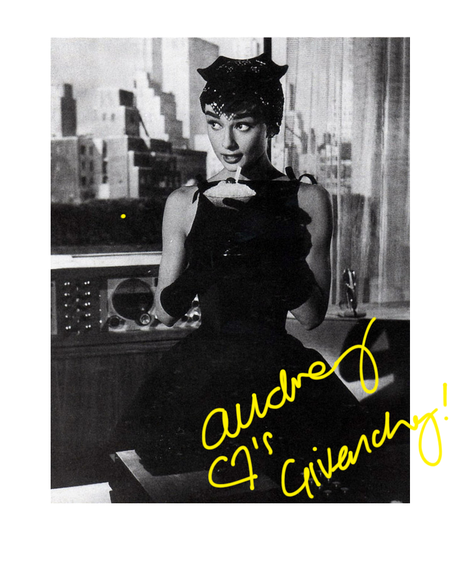 This week's post is based on a request I made last week when I asked for some suggestions for Frock Friday from you. Thanks goes to my hubby for this suggestion which I love because I haven't yet posted a picture of Audrey for Frock Friday.
Do you know the story of when Audrey met Hubert de Givenchy in his studio in Paris? Legend tells he was expecting to meet with the other Hepburn, you know, Katharine, because he hadn't heard of Audrey Hepburn! Nevertheless, it was meant to be, because Audrey was to became his muse and after the success of his costumes for Sabrina, he went on to design Audrey's wardrobe for seven more films, and their friendship endured for 40 years. Cute story hey?
I'm not kidding when I tell you it has taken me all week to find and decide on the frock for this post. This is because I didn't want to choose the same image that we see of Audrey everywhere, you know, the gorgeous black gown from Breakfast at Tiffany's. But which one? There are so many images of Audrey wearing Givenchy that it became a mammoth task to settle on even one of them. Initially I thought I was going to post the pink Givenchy from Breakfast, I do love that frock so but, then I thought about the one from Sabrina (1954), the one she wears to the Larabee's party, it's stunning, a real show stopper. But in the end, I decided on my favourite, the never-fail little black dress. The much-copied but never forgotten LBD Sabrina wears when she meets Linus at his office in New York. It's classic Givenchy and classic Audrey. Please keep those suggestions coming through on my Facebook page!
Have a lovely weekend. xx