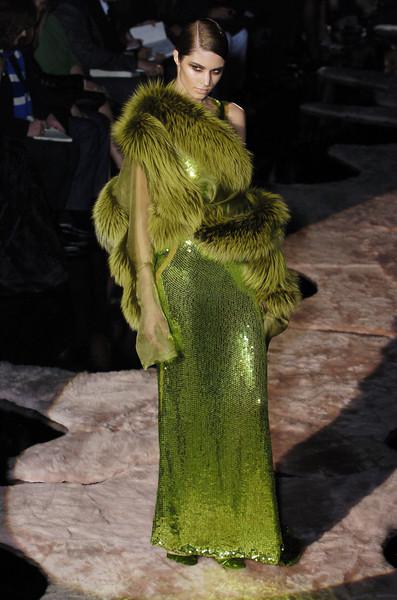 When Tom Ford departed Gucci in 2004, I remember thinking to myself how boring fashion was going to be without Tom's collections both for Gucci and YSL to look forward to. Even Time magazine asked the question, "Is this the end of fashion?" But what happened was just the opposite really. There's no denying that Tom Ford's brilliant re-vamping of the Gucci brand catapulted the sinking Italian leather goods house into a billion-dollar global fashion empire. But Ford's influence was felt far beyond Gucci because his example gave legendary fashion houses such as Balenciaga, Lanvin and Balmain a new chance to shine again utilising the talents of unknown designers like Nicolas Ghesquiere, Albert Elbaz, and others.
This is the second Tom Ford dress that has been selected for Frock Friday and the second green one. Perhaps Tom has a fascination with the color green also? As you know, I am easily swayed by the color green and I could not go past this stunner the Gucci Fall 2004 collection – click here for more.
I thought I would put it out there this week and ask you if you have any requests for Frock Friday? Do you favour a designer or an era perhaps that you would like me to feature? I thought it might be fun to set myself the task of finding a Frock Friday worthy picture from a reader's request. Please leave me a comment or pop over to the I like, I wish, I heart Facebook page and leave me a message there.
Have a lovely weekend! xx