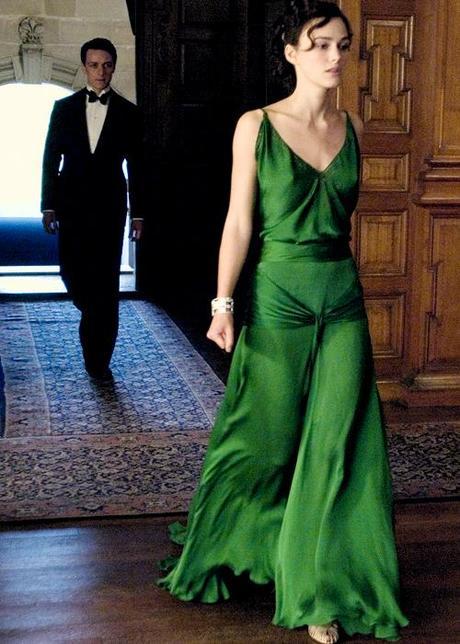 When the film Atonement came out in 2007, this dress became indelibly fixed on my brain. I adore the hypnotising shade of green and the 1930s silk, cut on the bias. Designed by costumier Jacqueline Durran, this talented lady has also designed costumes for Pride & Prejudice (2005) – again for Keira Knightly, Star Wars Episode II Attack of the Clones (2002) and lately for Tinker Tailor Soldier Spy (2011) (awesome film!) and the soon to be released Anna Karenina, which also stars Keira Knightly.
I haven't read Ian McEwan's 2001 novel Atonement of which the film was based on, but I came across a blog which says this: Ian McEwan spent several pages on Cecilia choosing her dress for the eventful dinner in the novel. He describes her final choice, "As she pulled it on she approved of the firm caress of the bias cut through the silk of her petticoat, and she felt sleekly impregnable, slippery and secure; it was a mermaid who rose to meet her in her own full-length mirror." Film director Joe Wright insisted to costumier Durran that the gown must have the same feel and so she came up with a flowing bias cut green silk gown that would flow with actress Keira Knightley's movement, as if she were underwater. Of the dress design itself Jacqueline Durran said: "I know quite well that I didn't make a 30s dress. We were creating a remembered moment of someone else, so I pulled details I liked from the 20s and 30s and worked out which ones would combine together to make something that suited Keira."
Cecilia also wears diamond star hairpins and a cuff bracelet, all designed by Chanel for the film, and even though Jacqueline Durren didn't win an Oscar for her beautiful creations for Atonement, her design surely has earned her a place in film history, something which will live on.
I think I am going to feature more frocks from films from now on. Do you have a favorite that you would like me to feature? Let me know by leaving a comment.
Enjoy your weekend x