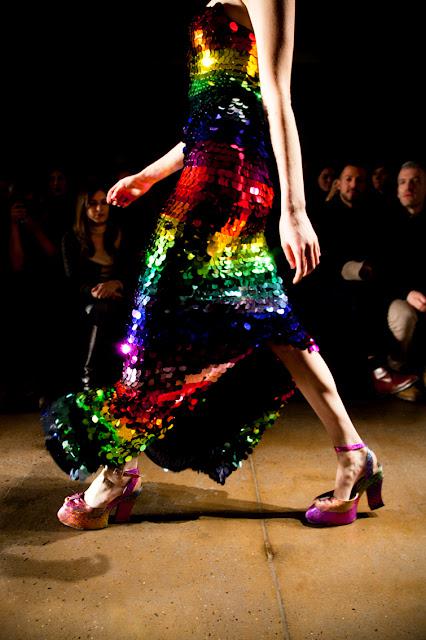 I had chosen an Alaia frock for today's frock Friday post but I came across this pretty Jeremy Scott number whilst on Tumblr last night and decided to post this instead. Rainbow sequins, is there anything prettier? 
So by now you will know that I prefer to keep my blog positive, and that as a rule, I generally steer away from negative comments. But regarding the Marc Jacobs FW 2012 collection at NYFW this week, I really must protest - what the? I think maybe he is over worked? Has too many collections to design for forced an inspiration deficit and so by the time he got to his namesake label he had nothing left? What about those Mad Hatter inspired enormous hats? I cannot wait to see if The Sartorialist snaps anyone brave enough to don one of those monstrosities and wear it out in the open for all to see. Really I cannot wait to be proven wrong, if anything so I can have a laugh!  Ok. Enough said. 
It has been a super busy week and I have had the most marvelous support from you for my new blog banner, thank you all for being so generous with your comments here and on my Facebook page, I love hearing from you!
Have a great weekend,
Heidi
Image source: Bryant Eslava