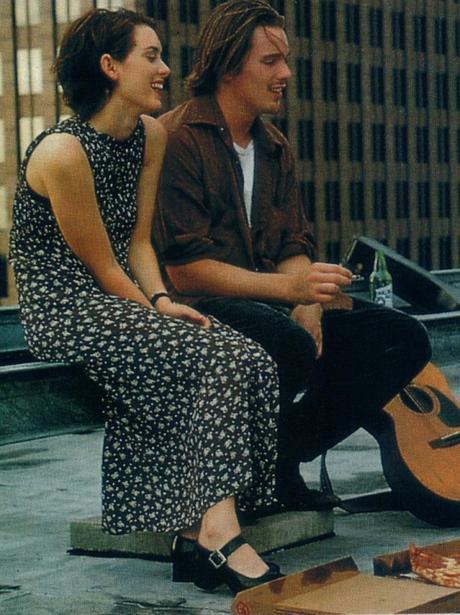 This week's frock is all 90s – which is where I think much of fashion is focusing on lately. This is Winona Ryder as Leilana Pierce in the always cool 90s indie flick Reality Bites (1994) directed by Ben Stiller. I fell in love with Ethan Hawke in this movie (who didn't?) and although I was already a fan of Winona, her personal vintage inspired style shone through in this movie and has forever been an influence on many by showing us that a wardrobe filled with finds from 'thrifting' or 'op-shopping' was cool. Janeane Garofalo's character Vicki was also deeply influence by the 70s and her wardrobe and her taste in music reflects that as part of her quirky character's charm. I must also mention the soundtrack – it was on constant rotation in my home at the time and is still a firm fav.
Remember last month when I wrote about how full life was? Well, the fullness continues as we are in the middle of moving house and while we pack and clear out, deciding on what to keep, store and throw out, I am reminded of the yoga Yama of non-attachment – 'aparigraha'. Aparigraha is the last of the five yamas (part of the Eight Limbs of Yoga), written down by Patanjali, author of the Yoga Sutras. Aparigraha also relates to 'non-greed' and 'non-possessiveness'. These are very much in my awareness as we go through this move. The yamas (and niyamas) are essential yogic guidelines in which to live your life. This particular yama is about taking only what we need, keeping only what serves us right now and letting go when the time is right. I love this last part because letting go of our 'stuff' isn't always easy and sometimes we find it easier to release it bit by bit, and not all at once. It is a fantastic feeling when you do decide to remove the attachment. With this move I have finally realised just how much stuff I have carried around with me since my early twenties as I've moved across the country and across oceans. I am astonished at my need to hold on to some things. As I have grown though, I now find it easier to remove the attachment and this time I have let go of more and more because every time I do, I know that it is a positive step to moving on to better and brighter things.
This is what happens when I haven't blogged for ages and suddenly I have a heap I want to write about!
Have a wonderful weekend,
love & light,
Heidi