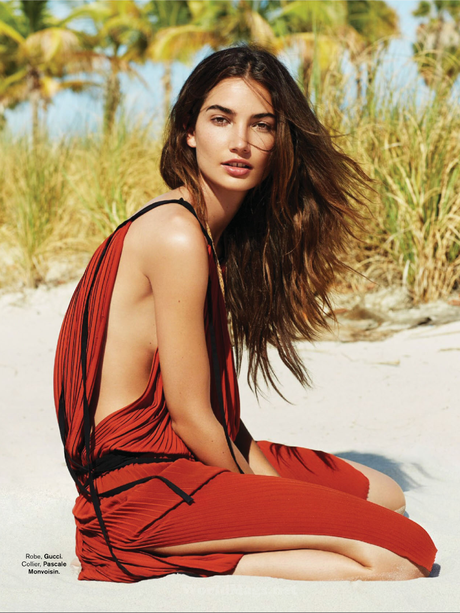 Lily Aldridge in a frock by Gucci, photographed by Derek Kettela for Glamour France, July 2014.
"Shall I compare thee to a summer's day? Thou art more lovely and more temperate."… I wonder if Shakespeare would have compared his love to a summer's day had he ever lived through an Australian summer? No, I'm not going to complain about the weather, but I will say this – dressing for humid temperatures in business attire is giving me loads of opportunity to put my past styling skills to the test. I'm loving spending more time scouring the op-shops (aka thrift shops) for work clothes. It's been so much fun, I've even made a game of it – I use the last 5 minutes of my lunch break to find something for $5 – I call it speed-shopping!  Last weekend I went through every wardrobe in the house and I found a fab Marc Jacobs frock in a garment bag at the back of my wardrobe. As it was pouring rain today, I spent this afternoon watching Breakfast at Tiffany's with Annabel and putting new buttons on it, and it's now ready to go! Don't you just love making something old look new again?
Have a wonderful weekend, wherever you are!
love & light
Heidi xo
Photo Credits:
Glamour France, July 2014
Photographed by Derek Kettela
Styled by Norah Bordjah
Hair by Andre Gunn
Make-up by Valery Gherman