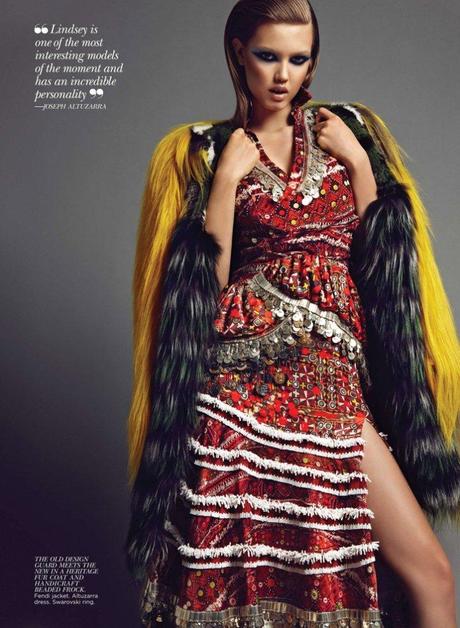 I read somewhere that designer Joseph Altuzarra described this (demo-couture) frock as one which "no one will buy" because it was priced at £7000, which is considerably more than your average ready-to-wear frock, yes?  Yet more and more designers are creating demi-couture to distance themselves from the regular high street labels. I had wrestled with posting this image from Flare magazine because the stylist has paired it with a fur coat. I have loved this dress for so long, I adore the gypsy/boho vibe and the coin details, I bet it makes a gorgeous "cha-ching" sound from all the coins when you move around in it. So, in the end I decided that fur is fake. If it were real fur the magazine would have stated it in they buy-line. If it turns out I am wrong, someone will tell me I'm sure!
Have a wonderful weekend lovelies!
love & light xo
Credits: Shooting Star – Captured by Max Abadian, American beauty Lindsey Wixson for the September issue of Flare . The accompanying shoot showcases other standout autumn looks from the likes of Stella McCartney, Louis Vuitton and Altuzarra styled by fashion editor Elizabeth Cabral. On beauty are makeup artist Hung Vanngo and hair stylist Keith Carpenter with ultra-glam finishing touches. / Manicure by Alicia Torello @ the Wall Group. Click on the image for more.