How was everyone's weekend!?   Us Canada folk enjoyed a long weekend (one reason why you didn't see me yesterday.  Secondly, I caught my boys' sickness so I was a little out of sorts).
Anyways, I also celebrated my birthday.  Yay!!  Who doesn't love a party!? I sort of went with a non-theme.  I wanted everything to look pretty and girly.  I finally decided on a bit of a girly-bling thing going on.  So, I guess it was a theme.  But not intentionally.
Here's the dessert table I put together.  Everything was white, silver and pink.  My second party including pink.  It's obviously my favorite color.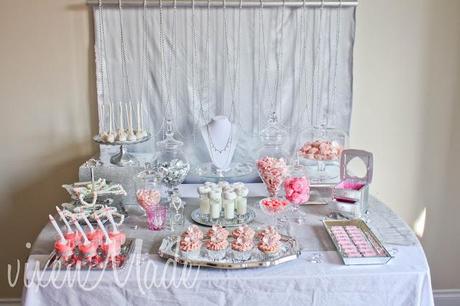 This backdrop?  A simple dowel hung with fishing wire and strung with Christmas tree beads.  And the fabric hanging I've had around for-evah!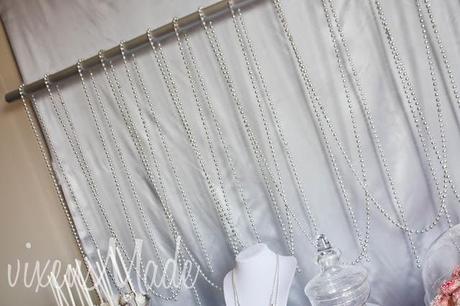 A pretty jewelry box filled with more bling!  I found this sweet thing at a thrift store, I gutted it, scraped the cheesy glass etching off, sprayed it silver and added scrapbook paper to the inside.  I also painted the knobs with pink acrylic, then sanded them a bit for a 'roughened' look.  Sorry, folks, no before pics.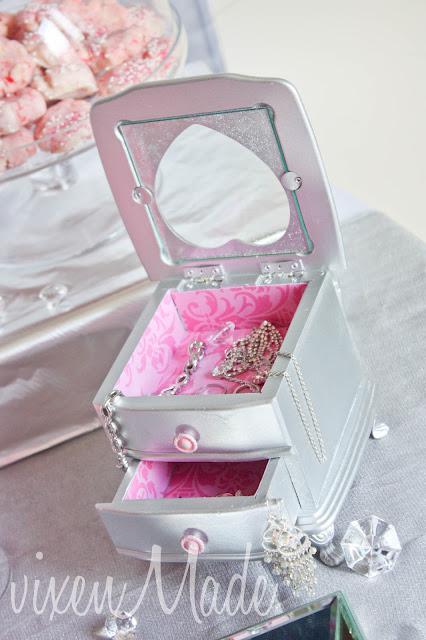 Plain jane vanilla pudding dyed pink, of course.  I also glittered the plastic cups (tutorial on it's way) and added bling to the plastic spoons.  Fun!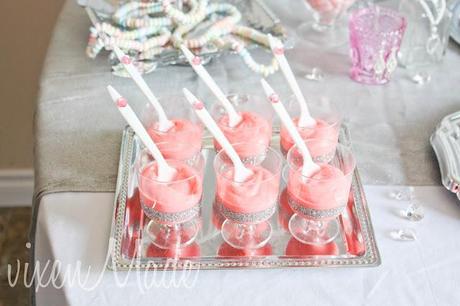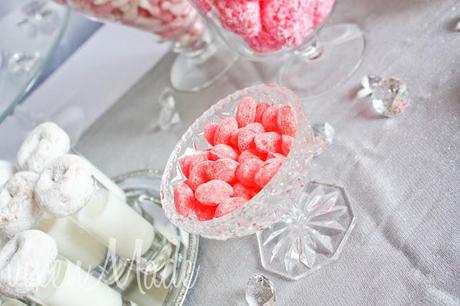 Cherry White Chocolate Shortbread cookies.  Yum.  Recipe will be up tomorrow!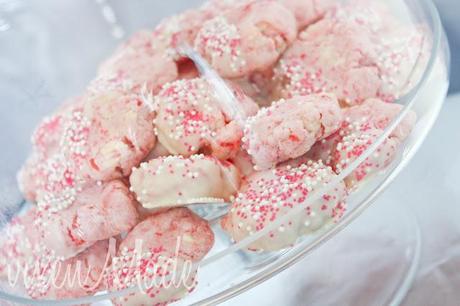 I used all the faux diamond and silver jewelry I had to decorate.  Just so happens I had a bunch.  Mostly accumulated from my grade 12 grad, weddings, and other events.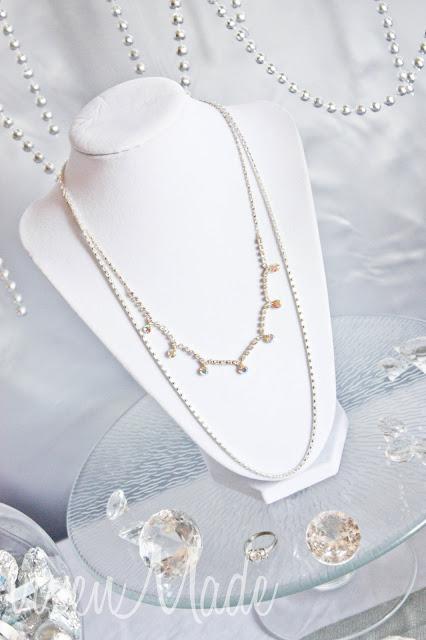 Chocolate cake pops.   My fave.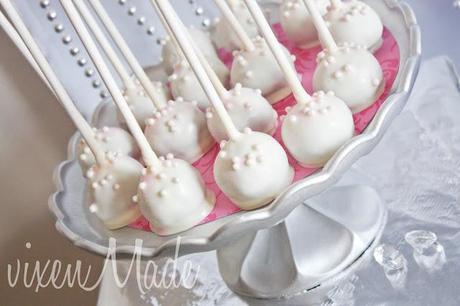 White chocolate cupcakes with strawberry buttercream.  Oh my.  Delish!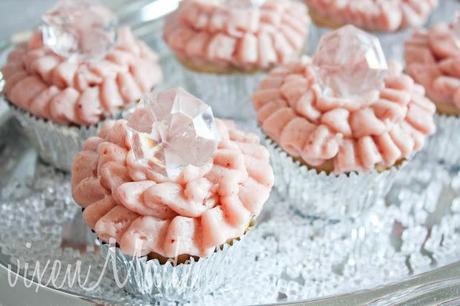 All the platters I already had (cheap dollar store silver tins.  This one was actually plastic).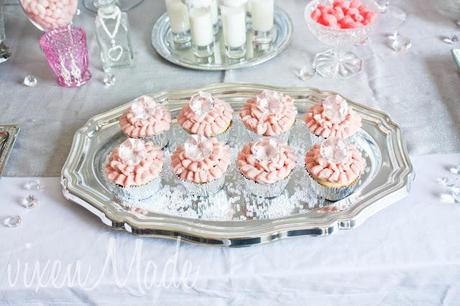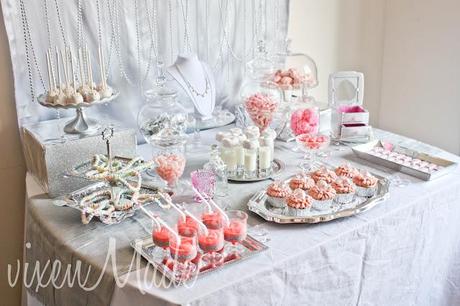 Powdered donuts (store bought) on milk shooters.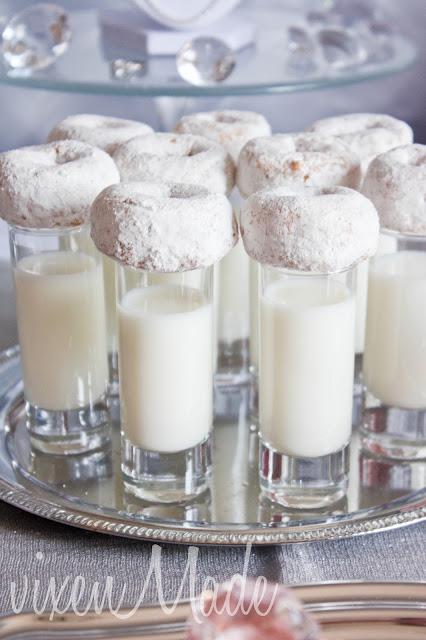 Paper wrapped mini candy bars.  Again, blinged out!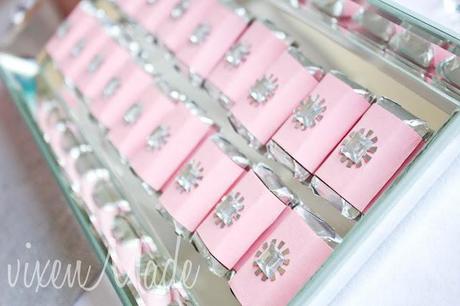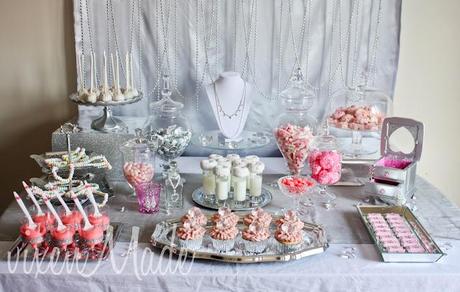 As for the appetizers, I wanted a mini 'dinner party' feel.
Cucumbers with Spicy Crab.  Again, recipes will be posted tomorrow.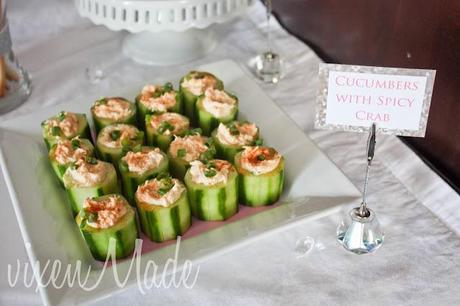 Garlic breadsticks (store bought).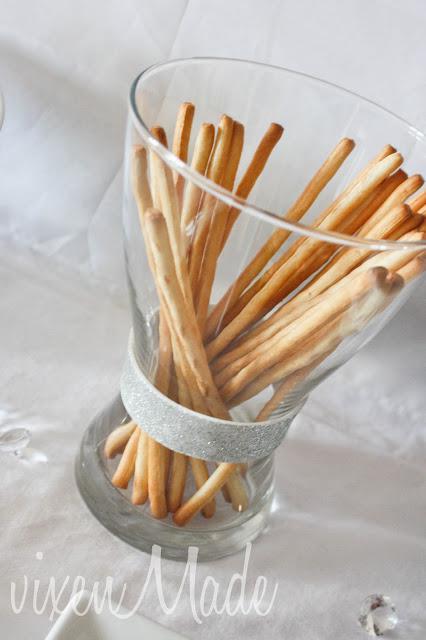 Shrimp cocktail.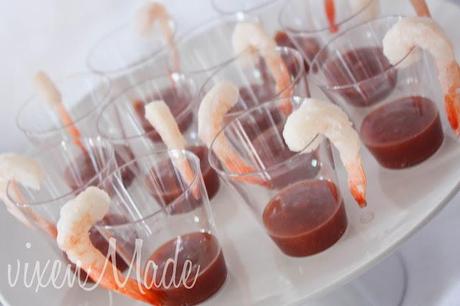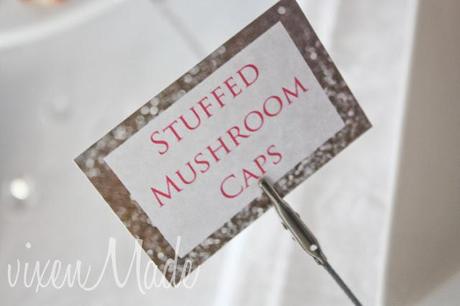 Roast Beef & Garlic Chili Mayonnaise Crostini.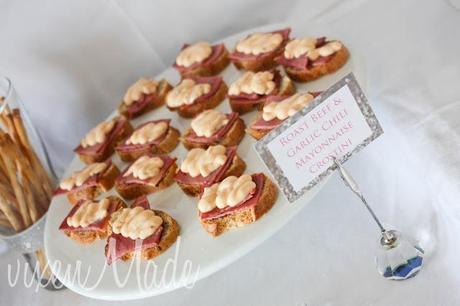 Celery with Chicken Salad.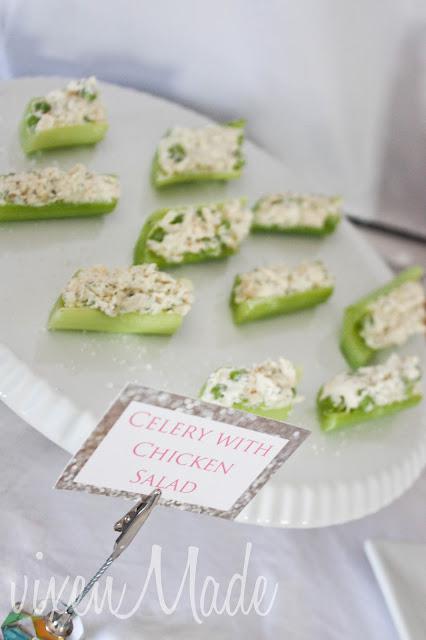 This was our appetizers table.  The soup in mugs and mushroom caps aren't shown only because they were still being warmed up.  Sorry, didn't get a picture of them.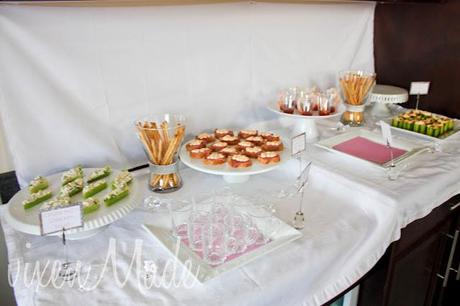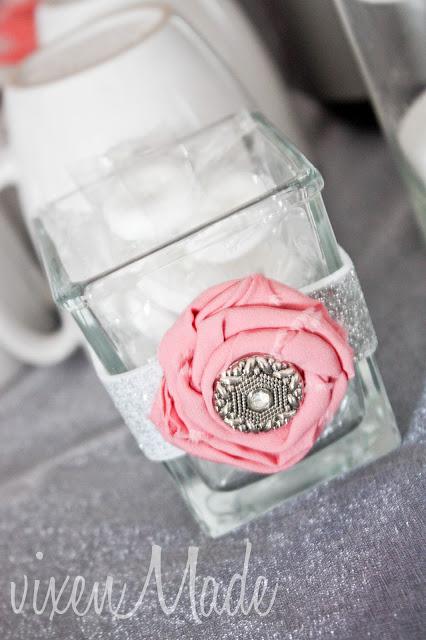 Thanks for stopping by!!