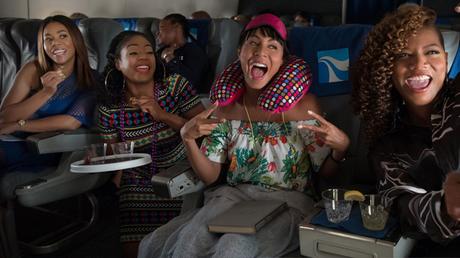 "Today is the last day we will ever be this young."

Starring:

Regina Hall, Tiffany Haddish, Queen Latifah, Jada Pinkett Smith, 
Written By:

Kenya Barris, Tracy Oliver
Directed By:

Malcolm D. Lee
Released Date:

July 21, 2017
Hilarious, empowering and also surprisingly touching at times, Girls Trip is a film that says a lot without having to do much at all. We can see it when we compare its success with that of films like Rough Night, which follows almost all of the plot of Girls Trip without any of the payoff and we can also see it if we compare its success to other box-office successes, like Bridesmaids. And lastly, we can see it if we compare the success of this film to the success of other films that have black, female leads like Hidden Figures.
The film begins with one of the film's lead (Regina Hall) lamenting about the disillusion of her college friend group: the Flossy Posse. After reconnecting with the other members of her group (Tiffany Haddish, Queen Latifah, and Jada Pinkett Smith), they decide to fly to New Orleans to celebrate the rekindling of their friendship at Essence Fest, a real-life festival that places big-wig, black celebrities like Mariah Carey, Ne-Yo and Ava DuVernay at the forefront of panels and discussions. While the film fails to provide many heart-warming moments featuring the girls reveling in their shared history like Bridesmaids does, there are many larger-than-life, raunchy and hilarious ones that express just how these girls feel about one another. The gags in the film run throughout the full course of the film and they just keep going, but they don't take away from the heart or the comedy of the film as the writers know just how far to push it. Speaking of the flippant humor in the film, Tiffany Haddish is throws herself wholly into her role as the fun-loving, crazy friend and, in the vein of Megan McCarthy's performance in Bridesmaids or Rebel Wilson in Pitch Perfect, she steals every scene she's in. Though some of the character arcs and stereotypes are a bit tired, these ladies breathe life into them with their humor and authenticity, proving that extreme levity can still have value to it.
 Jeremy Fuster of The Wrap calls Girls Trip, "an ode to African American sisterhood" and while you can say the same about Hidden Figures, which follows three African American women working at NASA, what that film lacks that Girls Trip brings to the table is the fact that Girls Trip allows these black women to just have some fun. What made Bridesmaids such a great film was not just the humor.. Friendship and womanhood were some of the film's most prominent themes, but that didn't make the film stray from the fact that those women were just trying to have a good time. Girls Trip does something similar without all the heartfelt moments and more importantly, it does all of this with a group of people that we never really get to see let loose on-screen. This is, interestingly enough, probably why this film did much better than Bridesmaids and Rough Night in the box office. Representation and diversity in film is very important and within the last few years films like Get Out and Hidden Figures have thrust black-led films into mainstream media. 
Black women don't have to be on-screen overcoming oppression or combatting institutionalized racism in order to make a box office hit. White women are featured in films that have them swearing and drinking heavily that make tons of money every single year, but we have yet to hear about any successful films like those featuring black women, which is extremely importnat because both black and white women have vastly different societal experiences. Girls Trip is even clever to touch upon this fact. During a scene featuring Kate Walsh and Regina King, Regina King's character enlightens her white publicist about her miusage of black colloquialisms. While it is just a minor scene in the film, it depicts somethings that black women like myself have to face on an everyday basis, which you definitely would not find in most of the films we're used to seeing.
Adding race as another layer to films like this is what makes films like these fresh and fun, espeically to the people of that race who haven't been able to see things like this on-screen before. A primary reason behind why filmmakers haven't adopted films like this into mainstream media before is their fear of financial gain. Will people of other races go see this film? Will men go see this film? If not, who the hell is going to see this movie?By adopting elements that the majority (i.e white people) will hopefully relate to, filmmakers have a large guanteed audience, even though they've shunned other diverse audience members that dying to see things they relate to on-screen. However, at the end of the day, Girls Trip gives everyone something to look forward to, regardless of race or gender and in relation to that, we can only hope that there are more movies like this to come.