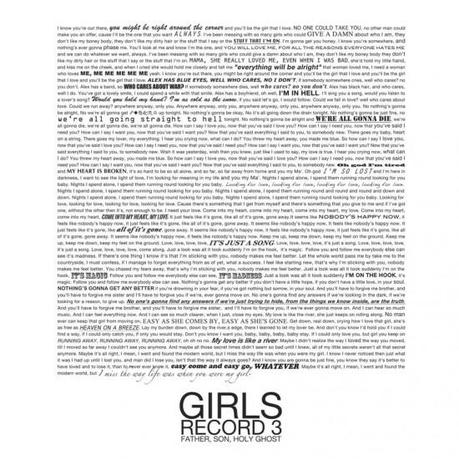 Vomit – Girls
After releasing Album, a soundtrack for all things carefree, and the terrific EP Broken Dreams Club, Girls are back with Father, Son, Holy Ghost. Steering their sound in a slightly different direction from the the sun-drenched 60s pop found on previous releases, Girls have crafted this effort with a clear influence from the following decade. Whereas Album was often lyrically weighed down with wallowing and whining, Father, Son, Holy Ghost shows a band owning up to their faults and exuding a mature sense of conscience.
The record kicks off with "Honey Bunny", a personal favorite with a chorus that skinny, grungy boys everywhere will sympathize with — Owens confessing that most girls, "don't like my bony body, they don't like my dirty hair." Despite such an awkward sentiment, the melodies grab hold very easily, making it impossible not to sing out loud despite the probable litany of wise-cracks. Songs like "Alex" and "Die" could easily fit into the initial studio release, but still manage to blend well with Father, Son, Holy Ghost. The guitar hits with a harder rock edge for these tunes, but the real triumph is how quickly the instrumental mood changes while keeping in touch with the album's overall sense of despair.  Lines such as "We're all gonna die," being repeated from a barely distinguishable mess of distortion are probably the finest example of what this release is all about.
"Vomit", the featured single, is soaked with 70's influence, a la Pink Floyd, but remains an uplifting power ballad timed at just over 6 minutes. If you were worried about this latest effort consisting solely of sunshine pop and 70's jam guitar, though, you'll be happily mistaken. Tracks such as "Love Like a River" feature gospel-style vocals, while "Just a Song" features flamenco-themed guitar picking, accompanied by bright tones and woodwinds.
The second half of Father, Son, Holy Ghost features a fresh wave of love songs, continuing with the beachy, melancholic vibe that anchors the album. Though it may seem a tiring topic, Owens manages to make each song sound fresh, allowing trite lyrics to seem more meaningful with his heartfelt, honest vocals.
While Father, Son, Holy Ghost focuses on love, love lost, and love yearned for, it also boasts fun guitar, reverb-soaked jams, and an overall sense of lustful hope mixed with the sadness. With Owens wearing his heart on his sleeve, listeners truly get to experience a more honest record. Album will hardly be missed, as Father, Son, Holy Ghost finds that perfect middle ground between pop-rock and love song ballads.