It is perhaps unusual to stop and think about who you are. From the moment consciousness kicks in, our lives are a non-stop progression of stimuli and response and taking the time to stop and think what someone else must be feeling is, I sometimes fear, a dying art. Although I can't accept the goddess hypothesis, purely on historical grounds, I am utterly at sympathy with it. I sensed that when Merlin Stone took the time to introduce herself to me at an American Academy of Religion and Society of Biblical Literature annual meeting some years back. She was one of the few who knew and appreciated my book on Asherah, and I in turn knew of her work both as a feminist and creative theological thinker. It was an honor to shake her hand. The heart of work such as that of Stone and Marija Gimbutas was that women deserve, and have always deserved, to be treated equally with men.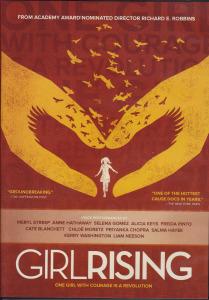 Watching Girl Rising, I was forcefully reminded of this once again. A 2013 documentary film telling the story of nine girls from "third world" countries, the movie is quite sobering. In many parts of the world women are still treated as property, although slavery has been considered a violation of human rights for well over a century. Hearing what young girls have to face in much of the world is heartrending. Hearing what certain unnamed presidential candidates have to say in this country is downright terrifying. Why is it that so many men never stop to consider what it would have been like for them, had they been born female? Would they have accepted that their lives would consist of lower pay and their healthcare would teeter in the balance every four years when a new crop of neo-cons puts the White House in its sights? And this is called the "first world."
Having been raised by a woman who had, for many years, no support of a husband, I have been sensitive to the plight of women my entire life. I could see no reason that my mother shouldn't be given the opportunity that other people had. Courageous, strong, and self-abnegating, she did what it took to raise her sons in a safe and loving environment. In my own experience of adulthood, full of struggles and turmoil as it has been, I wonder what life would have been like had I been a girl in similar circumstances. What if I had been born a girl in another country where my active mind would be grounds for beatings, or being shot? It is unconscionable. There may not have been an egalitarian society that centered on the worship of a goddess, but there is no reason we shouldn't try to make such a peaceful, fair, and just society nevertheless. If only men would stop to think about how distorted a one-sided view of life inevitably becomes, perhaps the entire world would be able to claim to be "first." It is only when women and men share rights that the world can start to be considered a just place.