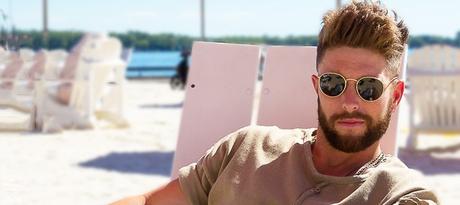 I've been listening to Chris Lane's Girl Problems and while it's definitely a country album, it's also so much more. There are hints of R&B, dance beats, with hints of pop, add some amazing rock guitar, energetic banjo, and Chris' mean falsetto, it all comes together perfectly. Fix has been a big success for the singer-songwriter and his latest single, For Her,is going to make you fall in love with Chris if you haven't already.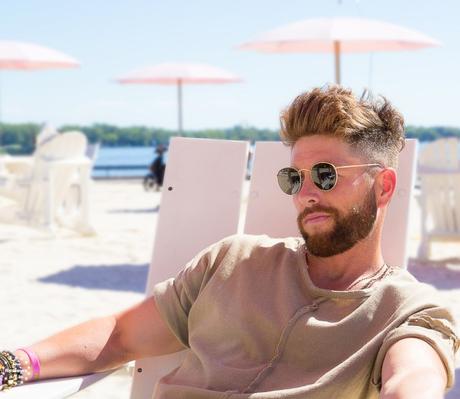 The North Carolina-born singer has been out on tour with the likes of Florida Georgia Line, Rascal Flatts, The Band Perry, Eli Young Band, Lee Brice, Dustin Lynch, Chris Young, Brantley Gilbert and Kelsea Ballerini and he's bound for stardom. Already breaking records (most first week single adds from a debut male artist) he's one we should all be watching.
On Monday afternoon I had the pleasure of meeting Chris Lane in person. It was a beautiful warm sunny Toronto afternoon and our meeting was at Sugar Beach, it's a tough gig but somebody's gotta do it. Chris and I sat in Muskoka chairs and talked about music, the CCMA Awards, baseball, football and more.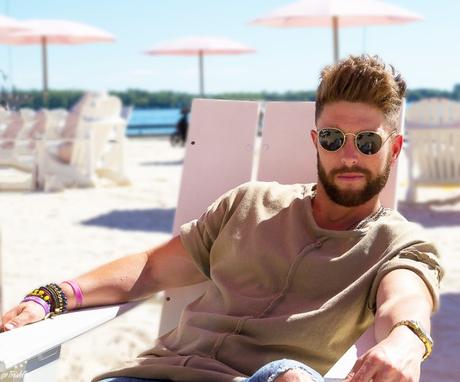 We knew Chris had played some ball in high school so I started there and asked him if he still followed the season. It was no surprise to us when Chris let us know he grew up a Braves fan, Atlanta is the closest MLB team to North Carolina. With a little laugh, he admitted they didn't have a lot to cheer for this year. Chris also let us know he hadn't been following the season as closely this year as he had in the past and that football is really where his heart is. He's a die-hard Carolina Panthers fan and he never misses a game. We asked Chris if he had a prediction for us and he said he really hopes that the Panthers can make it back to the Super Bowl this year.
Switching gears I asked Chris about how the success of the single Fix has changed his life. He talked about how cool it is that the size of the crowds are growing and that people are singing along to his songs. He's very excited and can't imagine that ever getting old. I asked Chris how it felt the first time that happened and his response, "It was amazing, amazing and I just happened to capture it on film too. So I can go back and watch it and recapture that moment."

I threw in one of our 5 Quick Questions for Chris and asked him what the first song he knew all the words to and could sing along with the radio when he was a kid? Without missing a beat Chris answered Achy Breaky Heart by Billy Ray Cyrus, we loved that song too.
We talked briefly about Chris' visit to the Canadian Country Music Awards Show and asked him if he'd seen anyone he might want to collaborate with. Chris had been impressed by Madeline Merlo's performance and he mentioned that she wasn't too bad to look at either. We feel the same way!
I asked Chris about a release date for the full video of For Her and he let us know that a real video has been filmed and it should be out in October. He teased us that the concept is really cool and that it turned out really well but we couldn't get any hints out of him. We'll be watching for that one.
One of our favourite questions to ask is about music an artist is listening to that we should maybe be paying attention to. Chris jokingly answered Back Street Boys and we think maybe he's been spending too much time with Florida Georgia Line. He went on to say he's listening to all kinds of things but didn't think everyone wasn't already listening too.
Thanks to Chris for taking the time out of a very busy schedule to talk to us. He's out on the road and you can find his tour dates here. Chris is running a contest right now and you can enter here, the prize is a skype session or phone call with Chris.
Find Chris Lane online at the following locations!