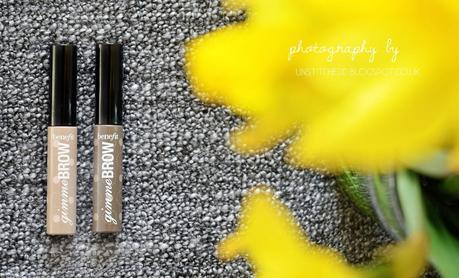 Benefit Gimme Brow - £17.50
Ever since Cara Delevingne came onto the scene a couple of years ago, I think every girl has lusted after a set of thicker, fuller, whilst still natural looking brows. And now, our prayers have been answered. Benefit have come out with their newest product, Gimme Brow, a tinted gel that adheres to the hairs and skin to create the illusion of fuller looking brows without the harsh 'scouse-brow' effect. I was lucky enough to be able to try it out, so here's how I got on with it ... 
First impressions, such cute packaging! Simple, but with enough pink and cuteness to stay true to the Benefit brand. The actual size of the product is pretty small, but you don't have to use much on each application, and having a smaller brush makes it so much easier to work with. To use, you literally have to brush through your brows and your done. Simples. I honestly doubted how effective it would be, since I usually have to use a powder followed with a clear gel when I want to do my brows as they are quite sparse in some areas, but the gel sticks to the hairs really well, giving them an instantly 'done' look whilst setting them in place for the rest of the day. It's the whole routine in one step!
For everyday use, I can't see myself using anything else, but I still think powder will have a place when I want a more dramatic look. For those who struggle with the shape of their brows, I would also say that applying color before may still be necessary, but the Gimme Brow will be a great addition to add a natural fullness and can be built up till you have the desired effect for those with sparser brows. Gimme Brow comes in two shades Light/Medium and Medium/Dark, which I would think would cover most people. Both shades suit my brows, depending on how dark I want them I can opt for either one, and the lack of orange/red undertones is very much appreciated since it helps to make it look a lot more natural. 
On the subject of brows, Benefit have created 'Brow Arch March' to support the charity Look Good Feel Better, which supports women and teens who are suffering from cancer. All you need to do is book your free eyebrow shaping and waxing at a Benefit bar and instead of paying the normal fee, donate some money to charity. I think it is a great idea and a wonderful way to support such a worthwhile cause.
I think you can probably tell that I'm completely smitten with Benefit's latest offering, and the unique design and formula of the product means it is something that you won't find anywhere else. 
What do you think, will you be giving this a go?