Craig Martin has been making a living in music for years, not an easy thing to do. He started out with smaller cabaret shows, composing music for television and film, he created the Classic Albums Live shows, and now his latest project, GIG turns the dial up a notch.
GIG an all original musical, was written, produced and directed by Craig, it opened March 15th for a 7 show run at The Panasonic Theatre. GIG takes us backstage and into the musicians stories and it does with great lights, great music, and exceptional talent.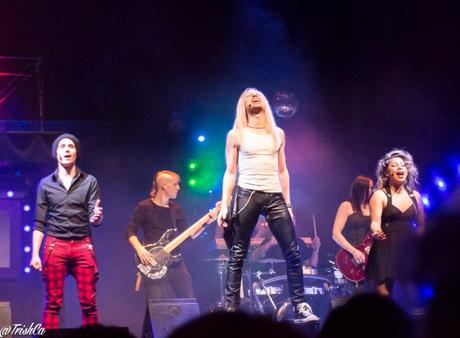 We meet Jason the Rock Star, played by
Nicholas Walsh
. We meet The Rapper, played by
Stokes the MC
and we meet The Diva, played by Nicole Robinson. The characters feel real, the story moves along at the good pace and we care what happens and isn't that the point?
I have to take a moment to talk about the chorus and of course, the musicians! They were an amazing supporting cast and it's a treat to see the musicians up on stage instead of hidden in a pit. Nice touch. For a full listing of the cast and musicians check out this link.
I'm not an avid theatre-goer but I do go to a lot of live shows and I liked what I saw. They made me laugh, and they made me forget everything else for a little while.
Photos from GIG at The Panasonic Theatre Toronto