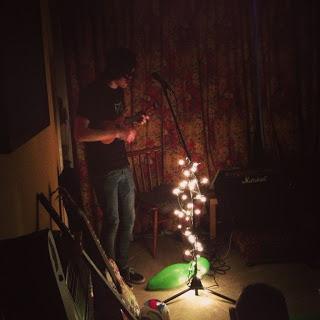 I'd never been to a flat gig before, let alone to a flat gig ALONE.  Needless to say I didn't have to worry, for as well as meeting friendly faces there, Lovers Turn To Monsters and flat owner Walker Smith Jr. were perfect hosts.  The setting was small, but intimate and cosy, and was the perfect platform to launch Lovers Turn To Monsters latest EP 'The Skeletor EP', as his music embodies much of the same qualities.  And that it was full of the DIY ethos that Kyle loves didn't hurt either!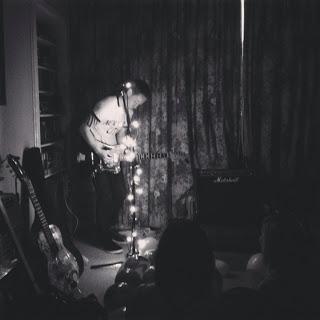 Starting the night's entertainment was the flat owner Barry Carty, a.k.a. Walker Smith Jr.  I suppose hosting a gig in your flat is one way of making it onto the line up!  Rocking up with a guitar and some backing tracks, it was a good set. showing there's plenty of ideas and potential once this one man show becomes backed up with a full band.  One track in particular, which I cannot remember the name of, stood out, very fast paced, punchy, oozing influence from The Strokes 'Is This It?' era.  And in terms of closing, there's no finer, or funnier way than a Scottish indie act covering Prince 'Purple Rain'.  Cue mass sing-a-long in the flat.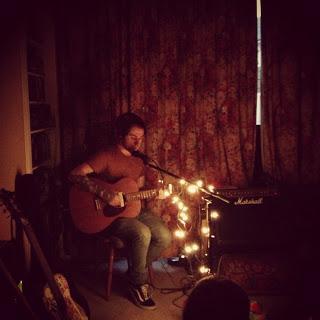 The week before this gig, Thursday 13th June to be precise, I was along at Algernon Doll's album launch at The 13th Note.  Backed with a full band, including members of Where We Lay Our Heads, it was a boombastic lesson in early '90's alt-rock brought into the here and now.  This evening though, Ewan Grant, a.k.a. Algernon Doll sat on a chair in the dimly lit room and played armed only with raw emotion and delicate guitar playing.  Many of the tracks came from his first album 'Camomile' rather than the just-released 'Citalo-pop' (the tunings are different he tells us), yet I'd hope that based on the joyous set he played at least a couple of people would have picked up his new record.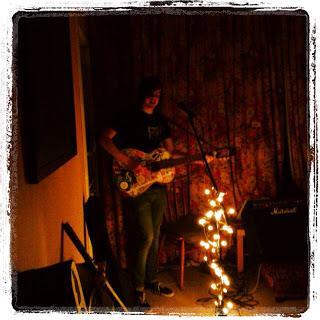 Cometh the hour, cometh the man.  The hour was late (time doesn't exist in a flat party), and the man was buzzing of the company of good friends and fine music.  Regular readers of the blog will know I'm a huge fan of Kyle Wood, a.k.a. Lovers Turn To Monsters (seriously does no one just use their own name any more!), and feel his song writing in particular is straight from the bones of Connor Oberst and Ryan Adams.  Moving between his sticker adorned guitar, a ukulele and a duet with Barry on banjo, the set is peppered with lots of between track banter.  It was a real friendly atmosphere and one or two drinks may have been sipped, but that was all part of the fun.  There's a few older numbers for long term fans like me, such as 'Hunting For Energy', and 'My Dad Doesn't Really Like My Interests...' off the 'Mumblecore' album, as well as some brand new tracks, 'cause as we all know Kyle doesn't rest on his laurels.  The real highlights though as the three tracks from 'The Skeletor EP'.  'Brando' is a track about being a nice guy, 'Skeletor', which closes the evening's set, a song about feeling insecure and lastly 'Big Fish', a beautifully open and honest song about the loss of Kyle's father which rouses a full room to join in with the chorus.  These three tracks represent the finest material Lovers Turn To Monsters has put together, and in the form of 'The Skeletor EP', they have been given some polishing up by none other than Esperi.  Go get a hold of it now right here.