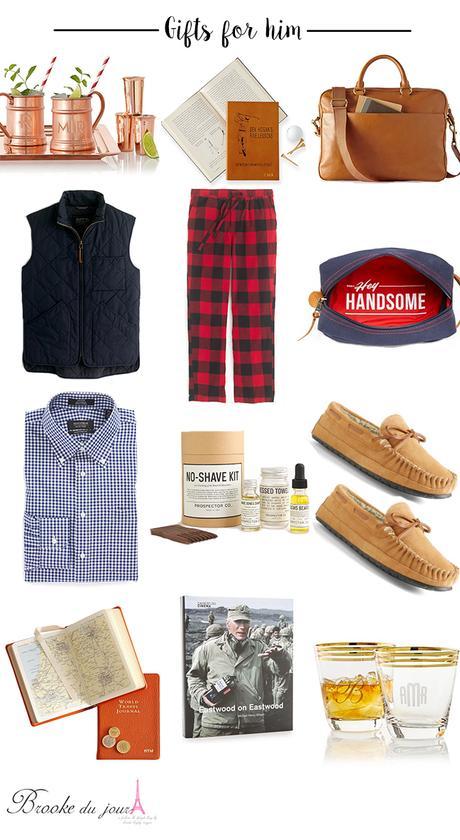 Mark and Graham copper mugs // Ben Hogan's 5 Golf Lessons book // Mark and Graham briefcase
J.Crew vest // J.Crew plaid pajamas // Owen & Fred Hey Handsome travel kit
Nordstrom gingham dress shirt // Prospector Co. for J.Crew beard kit // Nordstrom moccasin slippers
Mark and Graham travel journal // Eastwood on Eastwood book // Mark and Graham double old fashioned glasses
I've scoured the web and come up with several ideas he is sure to love. 
Up his bar cart game with these classic copper mugs. 
Improve his golf swing with pointers from Ben Hogan's 5 Golf Lessons book. 
I bought my boyfriend a briefcase last year, and he always says it's the best present I've ever given him. He brings it to work every day so it's a practical purchase but it's also very handsome! This year, my boyfriend was peeking over my shoulder as I was creating this gift guide and he told me wants a vest and slippers, so that made my job very easy! 
Make sure he's Christmas morning ready in these plaid pajamas. Get yourself a matching pair too. 
For the man who travels a lot for work, this Hey Handsome travel kit is a must. It'll put an extra spring in his step in the mornings. 
This gingham dress shirt is a no-brainer. Every guy looks good in a dress shirt, and he doesn't need to iron this one. He'll love it even more. 
If you're dating someone with a fondness for facial hair, help him maintain it with this no-shave kit. 
If your beau has a major travel bug, he'll love documenting his adventures in this travel journal. 
It's a rule that every man on the planet idolizes Clint Eastwood, right? It's part of their DNA or something. I'm for sure getting this book and a stack of Clint Eastwood movies for my brother. 
Get him ready for holiday party-season in these chic monogram glasses. When in doubt, monogram it right?
If you're still looking for more gifts for the men in your life, check out the gift guides at J.Crew, Nordstrom and East Dane. They're all amazing!


JavaScript is currently disabled in this browser. Reactivate it to view this content.