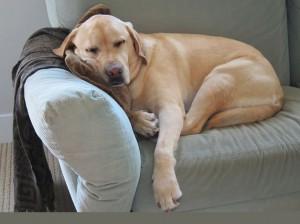 Growing up, Stuart Scheinholtz never had a pet. Not unless you counted the turtles that he shared with his sister, or the goldfish that met their untimely demise down the drain as Stuart was cleaning their bowl. The Scheinholtz family just wasn't into dogs. That's why, decades later, the Tiburon resident was unprepared for his response to a gift he received on his 50th birthday.
It was with excitement, and a bit of anticipation, that on my milestone birthday in 2006 I welcomed an amazing present from my wife, Joanne, and son, Jack: a 4-month-old yellow Lab I called Kramer. I had watched "Seinfeld" for years, and naming my new dog after Jerry's zany neighbor felt right. The thing about getting Kramer is that I didn't know how wide he would open my eyes and heart to the wonder of living with a dog.
Several years ago there was a buzz in San Francisco when some well-meaning citizens declared they weren't pet "owners" but "guardians." Many people thought this absurd. However, having now had the pleasure of being Kramer's guardian since that eventful birthday seven years ago, I totally get it. I never consider myself to be his owner. My role is to nurture him, protect him and give him a home. What I receive in return is his love, exuberance and affection, all of which provide me with immeasurable happiness.
Of course I'm partial, but Kramer's burnt-sugar coloring truly renders him a striking creature. His soulful brown eyes can hold a gaze for minutes, and his strong tail thumps his approval, whether it's going for a walk or greeting a new friend. Not a day goes by when someone doesn't comment: "That's a good-looking dog."
I consider it an honor to be Kramer's "person." We communicate constantly; I pet him and he nudges me back. Sometimes he just lies at my side with his head resting on my lap. Although Kramer rarely barks, he will emit a gentle, mewling noise when he wants to go outside, almost as though he's apologizing for the imposition.
While unfailingly polite, he's no shrinking violet. Kramer has an alpha side he exhibits with gusto to younger dogs and the "ladies." Even though he's now 7 years old, he remains puppy-like in many ways, playing keep-away with his toys and bouncing with curious joy when approaching other hounds.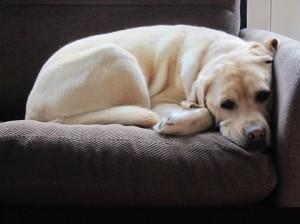 I've learned a lot about dogs since Kramer joined our household. I know about their acute senses, their ability to sense human emotions and the fact that they possess unique personalities. I now understand why dogs and humans have been enmeshed for thousands of years.
Joanne and Jack are wild about Kramer, too. When we watch TV, they jockey to sit next to him on the couch, taking turns inhaling his wonderful doggie scent. And whether we've been gone five minutes or five hours, Kramer always greets us with an enthusiastic dance when we return home, reminding us that we are loved.
My intense connection with this dog is the beauty of caring for a pet like Kramer. He's simultaneously vulnerable, joyous and engaged with me in ways that I never experienced with my childhood turtles and fish. It only took me 50 years to discover how a dog could become an integral and valued part of my life.
How great is that? I had no idea.
~ Courtesy of San Francisco Gate
Tags: dog human bond, intense connection