We all have a jet setter in our lives, that one person constantly travelling and holidaying that we are a little envious of! With their on the go lifestyle, it can be hard to find the perfect gift that is bout practical and impressive. Here are my top picks this holiday season:
MON PURSE Grainy Leather Cosmetic Wash Bag with Handle - This travel cosmetics case is beautifully made and features 2 levels - the top featuring 7 brush holder slots and the bottom, a large space to fill up with all your travel beauty products! It's large enough to fit a whole skincare and makeup routine, without taking up too much space in a suitcase. It can also be personalised with a free monogram of up to 8 letters!
LOUVELLE Turban Style Shower Cap - Possible the most stylish shower cap, this turban features a waterproof interior to keep your hair dry in the shower whilst looking stylish in this beautiful print. It also works to keep blow drys sleek and frizz free in the hot bathroom, and keeps hair out of the way when applying makeup. It's such a handy thing to have whilst travelling.
PETER THOMAS ROTH Drench & De-Tox Skincare Set - Travelling takes a huge toll on our skin, so what better to use after a flight than a hyaluronic rich moisturiser and hydrating, de-puffing eye masks! This mini set comes with generously sized products to help hydrate and refresh skin and tired eyes - which is definitely my main skin issues post flights.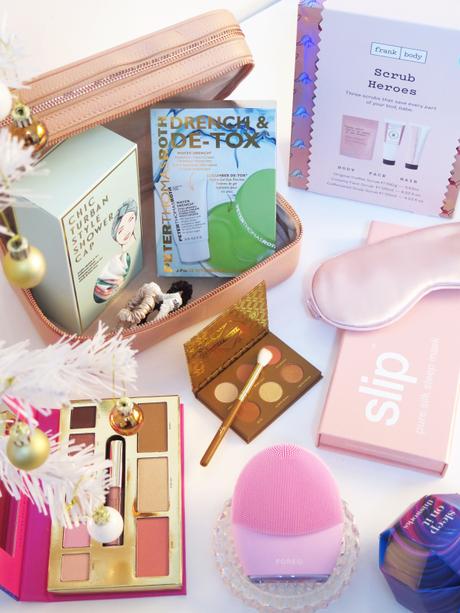 SLIP Pure Silk Skinny Scrunchies - Adorably packaged in a bauble, this 4 set of skinny scrunchies secures your hair without leaving any kinks whilst also looking on trend and fashionable. They don't snag hair during removal and are great to use to tie up the hair to maintain a style during the night.
MECCA MAX Good Vibes Only Face Palette - This really is the all in one palette you've been waiting for. Featuring a nice sized mirror, 6 eyeshadows - mattes and shimmers, a lip gloss, highlighter, blush and bronzer, this palette can take you from day to night, minimal to glam! The formulas are nicely pigmented and in versatile neutral shades that are easy to use and blend out. The brand is also cruelty free and vegan!
FRANK BODY Scrub Heroes - This set will have the recipient silky smooth from head to toe! Coming in a great travel size of 125ml and 100g, this set features the brand's famous coffee scrub for the body, a creamy face scrub, and a caffeinated scalp scrub. If you havent yet tried the brand, this is a great way to do so - and it also come beautifully boxed.
SLIP Pure Silk Sleep Mask - When you're constantly travelling, you'll take sleep where you can get it and this stunning SLIP silk eye mask will hekp you get that shut eye - whether it be on a plane, long haul train or in an unfamiliar and sometimes uncomfortable hotel bed. It's super gentle on the face and eyes but helps block out unwanted light to provide uninterrupted sleep.
ZOEVA COSMETICS Caramel Melange Voyager Cocotte - This compact palette features 6 eyeshadows (3 mattes, 1 metallic, 1 shimmer & 1 satin), alongside a short multi-tasking eye brush. ZOEVA shadows are great quality - smooth and pigmented and the range of shades in this palette are wearable and suited for both day and night.
FOREO Luna 3 - I've been a fan of FOREO cleansing devices for years and this Luna 3 is no different! A single charge lasts over 6 months of daily use, it's waterproof, compact and is both a cleansing device and firming massage device with multiple adjustable settings. Providing the deepest clean of your skin, if you connect the device to the app, you'll also access exclusive facial massage guides to help your skincare penetrate the skin better. As travel takes a toll on skin, this device will keep it in check.
THIS WORKS Sleep On It Set - There will be no struggling to fall asleep in a new environment which this set on hand. Featuring a a mini Deep Sleep Pillow Spray, Sleep Plus Pillow Spray and Stress Check Breathe In, a few spritzes will help de-stress and calm down any mind and body for a good night's sleep.

| Bloglovin' | Facebook | Twitter | Instagram |
*A number of items in this post were kindly provided. For more information, visit my Disclosure Policy.