About Science and Tech Expo 2019:
The mark to lead one's way in diversified aspects, The GIET UNIVERSITY brings SNTEXPO- 2K19 with numerous events including the fields of vast knowledge, tremendous ideation, the aura of fun and frolic, the alluring creativity arena along with the face off of one's potential with inner beliefs and aspirations of achieving goals. In addition to the above mentioned criterias, the food zone brings joy and accelerates the elation at its peak, cherishing all with memories and smile.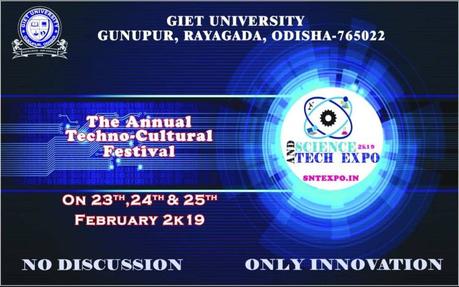 Infotainment:
Leading the steps to expertise and grabbing the goals of practical approach in hand with continuous notes to motivational talks, the GIET UNIVERSITY brings the knock to " INFOTAINMENT " in the SNTEXPO-2K19. With great enthusiasm, the list succeeds with the mark to the non - technical aspects of upbeat with immense pleasure of joy imbibed with great knowledge and exposure.
Megatainment:
The rush to bash is here with accelerating buzz rejoicing all with thrilling positivity. The SNTEXPO-2K19 triggers the shot to amusing carnival of festivity and vibrance. With tapping beats, and electrifying fusion the days of joy holds " THE MEGATAINMENT " to elate all for a boom to adore the ambiance of fun and frolic in addition to the rock of tunes and bands.
GIET University Gunupur - Science and Tech Expo - SNTEXPO - 2019