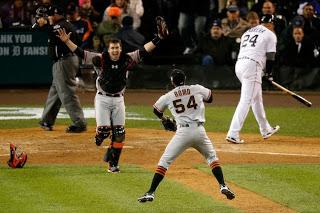 Congratulations to the 2012 World Series champion San Francisco Giants, who took care of the Detroit Tigers with a 4-3 win in 10 innings last night.
It was just total dominance by a better team that simply pitched lights out.
The parallels to the 2004 title the Red Sox won were striking (and also similar to the 2007 championship the Sox won also).
The Giants were up against the wall in the NLCS, down 3-1, and it looked pretty bleak. Their starting pitchers took over, and they would not be denied. (They also came back to win in the NLDS down 2-0 to the Reds, and that might be even more impressive, as they had to win all three games in Cincinnati, and did.)
The Giants ended the season winning their last seven games, and the starters allowed just five runs. They went an amazing 56 straight innings without being behind. (The Red Sox went the last 60 innings in 2004 without being behind to win the World Series that year.)
Pablo Sandoval was the MVP, but former Red Sox infielder Marco Scutaro was the MVP of the postseason. Good to see Scutaro shine on the big stage.
As the Giants were wrapping up their second title of the decade (I know that feeling very well), my thoughts were of my late, great Uncle Paddy, who lived in the Bay Area in the 1970s, when the Giants were also-rans in the NL West. He spent many a cold night at Candlestick Park, and I remember him bringing me a Giants hat when he visited New York when I was little.
I'm sure the Giants title brought a smile to his face, and whenever he is, I'm sure he was lifting a cold one to the 2012 World Series Champions.