For those who love Gianna Sobol's blog posts over at the Inside True Blood Blog, we have great news! She's back! In her first blog post in a looooong time, she interviewed writer, Alexander Woo from True Blood – plus there's an interesting picture (as seen below) over at the blog!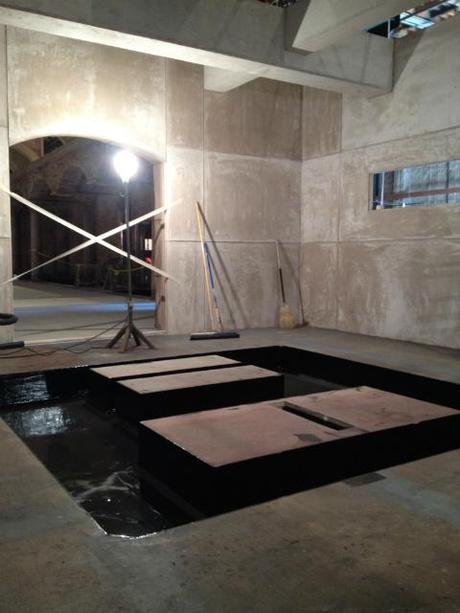 WTF is this?
Feel free to share your picture speculations below!
WARNING: this interview may contain spoilers…please read at your own risk!
This is what they said;
Gianna:  So what did you do over the hiatus?

Alexander:  I went and got married.  We had three receptions all over the country, so we traveled a lot. Then went on our honeymoon, and attended another wedding before coming back to town.

Gianna:  Now that the writers are back in session, what are you guys and gals up to?

Alexander:  We have gathered to discuss the storylines and themes of Season 5, and scripts for the first half of the season are being written. We are preparing to shoot Episode 1 right now.

Gianna:  Have you read any scripts yet for the new season?

Alexander:  I've read episodes 1 and 2, and I'm very excited about them.

Gianna:  Do you know which episodes you'll be writing?

Alexander:  There are six writers and twelve episodes, so I will be writing two. I'm doing episode 4 now, and another one toward the end of the season.

Gianna:  Is there anything you can share with us about next season?

Alexander:  Some of the things that people loved in the first four seasons of 'True Blood,' you'll be getting more of. And there will also be some surprises that will hopefully delight everyone. We have a sense of what the fans have already enjoyed in the previous seasons, and we're doing our best to give our fans more of that but also leave some room for novelty and surprise.
Notice the part in bold…? Not sure if they know (or care) what we (the fans) really want or that they understand how very disappointed we were by the end of Season 4. We strongly urge you to leave your comments, complaints and anything else you'd like them to know about how you feel about True Blood – over at their blog!
If you would like to read the entire blog post and/or leave a comment on their blog, please click here!
What are your thoughts after reading this? Share 'em below!