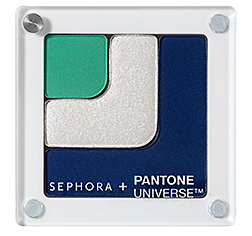 There's a world of color out there that we don't know about (well, that I didn't know about).
But did you know Sephora and Pantone have paired up to bring us a colorful pallette of cosmetics inspired by the Pantone Universe?
A few weeks back I revealed that up until awhile ago I knew nothing about Pantone and what the "color of the year" actually meant. During my research for the post I discovered some interesting things, one of these "things" happens to be the Sephora + Pantone Universe make up collection. 
The Emerald Collection is still available and soon to be released is none other than Radiant Orchid of course. So check it out and while you're at it in case you missed my post on Pantone and Panettone (mmmmm) you can check it out below along with a bunch of other GREAT posts from fellow fashion bloggers brought to you by IFB. 
Jenny
A Vintage Covered: Ways to Wear a Maxi Skirt
Beauty and Sass: Four Fall 2014 Fashion Week Beauty Trends to Try Now
DressCode:HighFashion: Top 10 SS14 Mens Suits
Hazel Eye Personality: NYFW FW14 Part One
Head 2 Heels: 15 Ways to Rock a Heart Print
Homes & Heels: NYFW Street Style Look for Less
Hunting in Heels: The Men Behind the Lens
Inside Out Blog: Understanding Undertones and Ageing
Lara Lizard: My Annoying Ethnic Features!
Metallic Paws: Fun Prints for Summer 2014
Nothing 2 Wear Novello: What The Heck Is Pantone?
Purushu Arie: Tradition vs. Innovation in Fashion
Simply Frabulous: Stockholm AW14 Klamborn's Fashion Tribe
Style Bizarre: My Love/Hate for Affiliate Programs
Style Context: A Collection of Contrasts: Noon by Noor Fall 2014
Style Curated: Fashion In Conversation: Zac Posen
Style Vanity: 10 DIYs to Re-purpose your Valentine's Day Flowers
The Stylist: Fashion Stylist: Making Something Out of Nothing
Trend Survivor: NYFW vs. LFW Street Style
We Are Ready Made: The Girls Who Run The World