Well the weather has been a bit kinder this week and I have managed to get down the plot a few times between work and home life.

 

The Barking of the plot is still continuing but this is a few weeks from being completed but what is done looks pretty smart if I do say so myself!.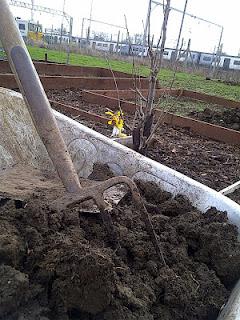 The next job on my list is construction of another compost bin I have one already but need another to turn the compost and aerate it. I have 4 pallets acquired from a local factory that were happy to get shot of them. I was breaking of the bottom bits of the pallets to make them flat and the regular hammer was doing the job but taking an age and not to mention it was hurting my wrist with every strike. Time for a brew I thought and the new plot holder opposite was down the allotment so I offered him a brew so the ice was broken we got chatting and when I got round to explaining what I was doing he went back to his shed and out he walked with a sledge Hammer! (Who keeps a sledge hammer in there allotment shed?)I was taken aback by this but it did make short work of the pallets.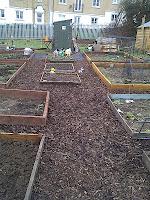 I also made a metal note not to cross swords with Number 52! Hopefully by Sunday lunchtime the compost area will be upgraded I will post some before and after pics.
I also got round to planning the Pear Tree as the soil was surprisingly dry still. Won't be long now until it will be read to take some onion sets.