My Runner beans have germinated!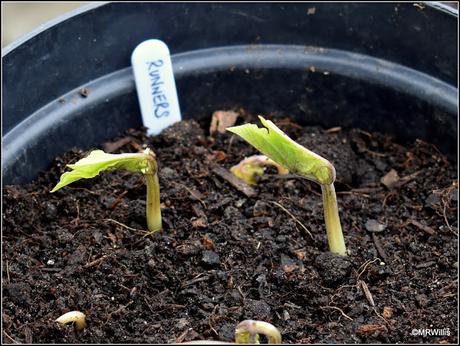 I sowed 20 Runner Bean seeds - ones I saved from last year's crop. The variety is "Scarlet Emperor", an old-fashioned but highly dependable one that produces big pods with that real Runner Bean flavour, unlike many of the more refined modern varieties!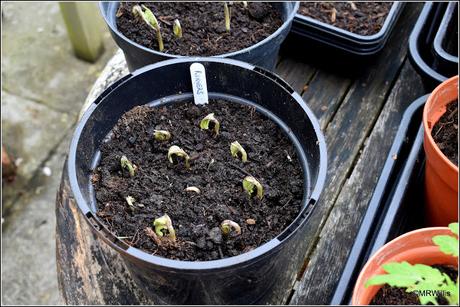 I also sowed 10 seeds of Borlotti "Lingua di Fuoco" and climbing French Beans "Cobra", but those ones haven't germinated yet.
So, with Runner beans germinating, it was obviously time to get their poles put up. As normal, I will be using 9-foot Hazel rods - seven pairs, with an extra pole across the top to give the structure some rigidity.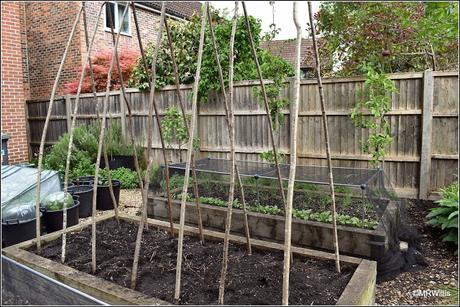 The sturdy poles have been used for three years already and they still seem sound. They are so much better than bamboo canes! The bean plants find their rough surface much easier to grip.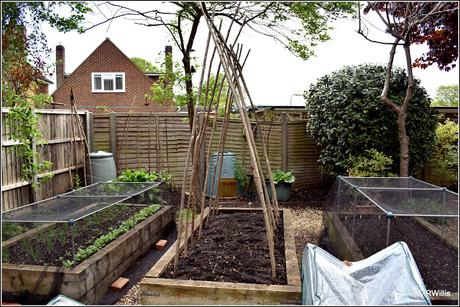 The poles originally came to me as a gift from my local council's Countryside Department and are sourced from local and sustainable woodland - not imported from the Far East as bamboo would be.
The erection of my beanpoles is always appreciated by my local bird population. Within minutes of them going up, a male Blackbird was sitting on the crossbar, loudly proclaiming that henceforward this would be HIS perch!