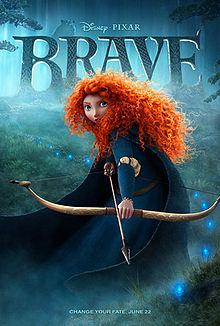 I had the amazing privilege of getting advance preview tickets to see the Disney-Pixar movie Brave! I've been dying to see the movie ever since I saw the trailer in February, so I pounced on these tickets when I had the opportunity. I can happily report that the months of anticipation and the hour and a half wait on line was totally worth it!
Brave was seriously one of the most enjoyable movies I've seen in a while, and I go to the movies pretty often. I'm not going to spoil the plot because I want everyone to go and see this amazing film, but I can say that Brave is awesomely feminist and girl-power. The main character, Merida, is a Scottish princess who enjoys riding horses and shooting bows more than wearing fancy dresses and attending state functions. Her mother, the prim and proper Queen Elinor, can't understand Merida's desires, which leads to friction between the two women. When the queen insists that her daughter must be betrothed, Merida, headstrong and resolute, is determined to change her fate. I won't say how this transformation occurs, but the result forces Merida and her mother to reconcile their differences and work together.
I must say, I am really happy to see that Disney-Pixar has finally gotten around to including a female main character. In their previous twelve movies (yes - TWELVE movies), all of the main characters were male, so it's good to know that Merida is diversifying the pool a little bit. I also hope it's a sign that Disney-Pixar, which looks like it'll be taking over the animated movie industry, will be including more female protagonists in future productions.
Another thing I really appreciated about Brave is that it explores mother-daughter relationships. Considering it's rarely done on the silver screen at all (a mere 24% of characters in the typical mother age bracket, 40-64, are female), I'm pretty impressed that Disney-Pixar did it. To be honest, I would've been happy so long as Merida's mother stayed alive, since in most Disney movies, especially the ones involving princesses, the mother's dead and the stepmother's evil. However, in Brave, Queen Elinor is very much alive and well, so it's really nice that she's an active part of the movie and not just a stock character standing next to the king.
I think that Merida is an awesome role model for young girls. I really like the fact that she's depicted eating several times in the movie, because I know that a lot of girls feel awkward about eating in front of guys. (Okay, I was one of those girls too. It's amazing what going to an all-girls high school will cure you of.) I also love how Merida's not afraid to change her own destiny. She shows girls that they can control their own lives and don't have to give in to what anybody else wants, whether it's their parents or a partner or whoever.
All in all, Brave is awesomely feminist. With a protagonist as feminist as Merida and a plot that flat-out empowers girls, how could it not be? I stamp Brave with the Feminist Seal of Approval and encourage you all to see this amazing film! It comes out June 22. I certainly hope that headstrong Merida ends up as beloved a Disney princess as Cinderella.