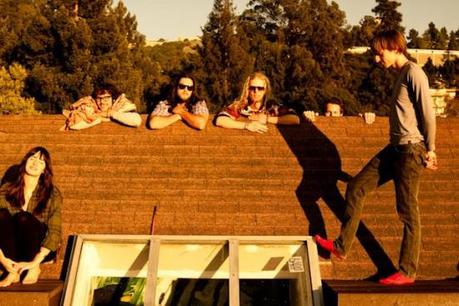 San Francisco has always been a hotbed of new music, notably from bands that lean more toward psychedelia, and Waterstrider (@waterstrider) is primed to join these Bay Area heavy-hitters, bringing their unique sound that toes the line between tUnE-yArDs' afro-beat flavors and the muted psychedelia found in Hot Chip.
Their latest release, Wind-Fed Fire, though only a cozy thirteen minutes long and just three tracks, shows significant growth from their 2011 debut Constellation. The opener "Water & Stone" is both ethereal and danceable, with wonderfully intertwining saxophone and guitar lines that blur together into one unified sound. Songwriter and singer Alex Siegel speaks to the elemental power of desire when he sings "O how I would love just to hold/once more your cold, cold bones."
The band further explores this relationship between sex and nature in "Feathertips", a great track filled with muted guitar picking and bright, smiling synthesizers. Siegel's vocals here are a particular highlight. Finally, the EP wraps up with a live rendition of "Edge of the Light", showing the band's true instrumental prowess. Wonderful, interlocking percussion lines support a floating flute solo that glides above the tight African groove. I'm telling you, this rhythm is dangerous. Get in on Waterstrider now, especially if you're a California kid and can catch them live.