I hate it when my teeth look yellow due to food and beverage stains, but I can't be bothered with messy trays of whitening gel or silly strips. So, I was thrilled to hear about Colgate's new Optic White products. They are SO easy to use, and they really make my teeth look whiter! Let me tell you about each product:


Colgate Optic White Toothbrush + Whitening Pen
This toothbrush is so clever because there is a whitening pen stored inside the handle! The pen contains a hydrogen peroxide gel, which can be applied to the surface of your teeth after brushing using the applicator at the end of the pen. It takes less than a minute and can be used twice a day. The toothbrush itself also has special polishing bristles to help remove stains from the teeth before using the pen. I have been using this toothbrush/pen combination for a few months now, and I will definitely get another one when the gel runs out. It's so quick and easy to use, but effective!


Colgate Optic White PLATINUM Whiten and Protect Toothpaste
This toothpaste is specially formulated to not only scrub away stains but also to seal out new stains! It has a fresh Cool Mint taste.
Colgate Optic White PLATINUM White & Radiant Toothpaste
This toothpaste contains extra polishing brighteners to make your smile shine! It comes in Crystal Mint.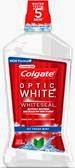 Colgate Optic White WhiteSeal Mouthwash
You'll feel a cool burn with this Icy Fresh Mint mouthwash, which contains 2% hydrogen peroxide to whiten teeth, prevent future stains and attack bad breath!
I've been using the toothbrush, whitening pen, toothpaste and mouthwash for some time, and I am really pleased with the results. I feel that my teeth look whiter, and I love that Colgate Optic White products aren't time-consuming to use or expensive to purchase. I'm going to continue using these products even after my samples are gone! You can pick them up at mass retailers and grocery stores nationwide.