Baygon, Glade, FamilyGuard, Mr. Muscle, Pledge, OFF, Kiwi, Ziploc Now on Shopee!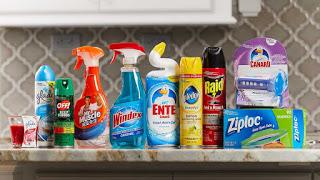 We just renovated our house extension, one of our go-to furniture cleaners is Pledge Furniture Lemon - 330 ml. It improves the appearance of most hard surfaces by removing dust and fingerprints and providing a protective, glossy coating without leaving a waxy build-up. Picks up dust and dirt. Because of the renovation, I saw lots of bugs and insects around the house (especially mosquito) my personal and most-trusted insect killer is Baygon Multi Insect Killer Kerosene-Based - 500 ml I'm sure I'm not the only one who uses this one to fight insects. For our comfort, sink and floor, I make sure that it is clean by using Mr. Muscle All Purpose Cleaner 2L - Wild Lavender aside that it cleans thoroughly the lavender scent can be smelled even after washing it off leaving your comfort room smells like new. To keep our living room clean and disinfected I use FamilyGuard Disinfectant Room & Multi-Surface Spray Aerosol Fragrance Free 280ml it fights the virus that can cause COVID-19 (SARS-CoV-2), flu, H1N1 and Influenza A keeping the air fresh. 
Don't forget to keep your home smell good try to use Glade Automatic Primary - Ocean Escape 
One of the greatest innovations from Glade! Modern and stylish, fully automated and battery operation sprayFully automated air freshener you can place anywhere inside your home! 
Choose different spray interval settings 
Allows to add more fragrance when needed with an EXTRA BOOST button 
Modern and stylish, comes in sand and white color. 
SC Johnson's is one of the trusted brands here in the Philippines now they are available on Shopee. Download the app now and check their discounted products over 25% now!