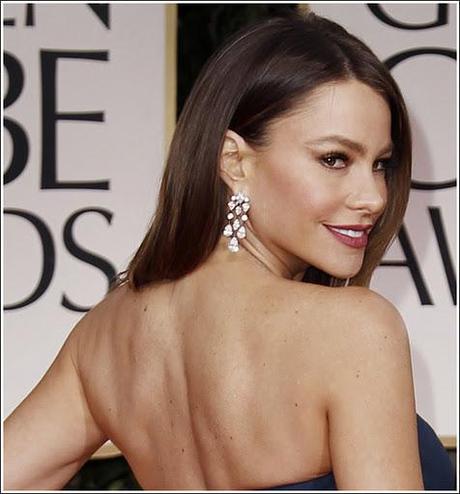 A look at Sofia Vergara as she walked the red carpet at the 69th Annual Golden Globe Awards held at the Beverly Hilton hotel in Beverly Hills, California on January 15th, 2012.  Her makeup was done by makeup artist Kayleen McAdams. On inspiration, McAdams said, "This look is all about the lips. We chose a bright plum lip and kept the eyes soft with bronze shadow and multiple coats of mascara. The dress is a gorgeous shade of teal and the hair is very sleek and youthful so we wanted the makeup to stand out and look youthful as well."
Makeup Breakdown
I started by applying COVERGIRL TRUconceal Concealer #4under the eyes and around the nose. I then applied COVERGIRL NatureLuxe Silk Foundation in Nutmeg with a sponge and set that with COVERGIRL Clean Pressed Powder in Soft Honey. I chose a plum toned blush COVERGIRL Cheekers Blush in Plumberry Glow and applied it along the cheekbones and apples of the cheeks.

Eyes:
I applied COVERGIRL Eye Enhancers 3-kit Shadow in Golden Sunset all over the lid and into the crease and then applied three coats of NEW COVERGIRL LashBlast 24HR Mascara to the top lashes and one coat on the bottom.

Lips:
I applied COVERGIRL LipPerfection Lipcolor in Everlasting first and then appliedCOVERGIRL LipPerfection Lipliner in Beloved. This keeps the lipstick from bleeding, but makes it easier to apply the line with the moisture of the lipstick.

When she was ready to hit the red carpet, I sent Sofia on her way with powder, lip pencil and lipstick for reapplication.