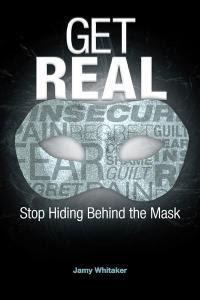 "Who are you?  This is not necessarily the same person that everyone else sees everyday.  I am talking about the real you.  The one you are when no one is watching, and your mask is put away."
Do you know your true identity in Christ?  Forgiven, set free, accepted, holy, made new, loved, confident, and victorious. Author Jamy Whitaker does a  great job of outlining and expounding on these qualities.
"Get Real examines just that, how to take off the mask and be who God created you to be without fear."
This study is divided into three parts:  identity, insecurities and perspective.  Discussion questions at the end of each chapter are also provided to help search the heart.
In the chapter on masks, the author writes:
"We tend to wear masks, so people see what we think they want to see.  We are so scared that people will not like us or that they will judge us, so we hide behind a mask.  The mask gives us security to keep our true, vulnerable self locked deep inside.  The sad thing is we wear masks not only for the public, but also sometimes at home with our families and even with God."
I can totally identify with this statement!
The book then encourages the reader to step out, take risks, and be stretched with Biblical examples from Abraham and Peter.  The ultimate goal is living with eternal perspective no matter what your calling!
I chose to review this book based on my own experience wearing a mask.  In some circles, I don't feel able to present myself as "less than perfect".  The first section of this book really spoke to my heart in this area  and was a blessing to read.
Disclosure:
 I received the above product to review. I was not required to write a positive review nor was I compensated in any other way. The opinions I have expressed are my own. I am disclosing this in accordance with the FTC Regulations. I am part of 
The CWA Review Crew
This post written and property of Homeschool Circus and can be found at: www.upatdawnreadytowork.com.