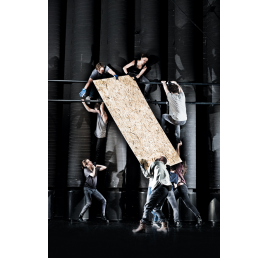 Jefta van Dinther / Cullberg Ballet
Plateau Effect
Foto: Urban Jörén
Dance is how the body sings. How it communicates. How it speaks. Contemporary dance is perhaps the most expressive form. And the Julidans festival offers the best in contemporary dance the world has to offer.
This year's festival represents a fascinating journey through England, Canada, Norway, Sweden, China, Morocco, the United States, France, Algeria, Mozambique, Italy, Germany, and, of course, the Netherlands.
Julidans takes place in Amsterdam every year in July (juli = July; dans = dance), this year from July 2-13.
Sample the new generation of talent, meet the dancers and choreographers, and shake your own groove thing at the afterparty on July 13.
Visitors this year will also be treated to the Dutch premiers of "Usually Beauty Fails" by the Frédérick Gravel (Canada) company and Akram Khan Company's (United Kingdom/Bangladesh) "iTMOi (in the mind of igor)" among others.
This year, Julidans is also introducing the Julidans Young discount for anyone under the age of 28.
The organization's website calls the dances presented at the festival "daring, cutting edge and leading." Performances will take place at various locations throughout Amsterdam such as Melkweg, Paradiso, Stadsschouwburg, and the Vondelpark Open Air Theater.
2013 marks the 23rd edition of the summer international contemporary dance festival. Controversial, unconventional, and often surprising, Julidans is highly acclaimed in the modern dance world. The experience - for both the performers and the audience - is the goal, and the Julidans choreographers certainly excel in that department, expertly combining dance, theater, and music to create deeply touching works.
© 2013, Amsterdam City Tours Blog. All rights reserved. On republishing any part of this post, you must provide a link back to this original post