It's been a while between reviews of the Get Reading books bestowed upon me last year, but My Hundred Lovers by Susan Johnson has got me going again.
In this book, a woman on the eve of her fiftieth birthday reflects on one hundred moments in her life. Most have to do with love, but not necessarily in the sexual sense (though there is often undertones of that). As I read it I was struck by the exploration of relationships we have in our lives: friends, strangers, family, countries, nature, ourselves.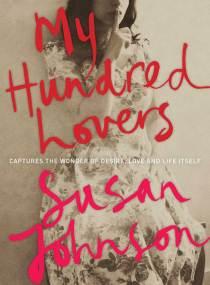 Susan Johnson explores them vividly, manipulating perspectives so that it is at times like reading the protagonist Deborah's diary, and at others it is as if we are seeing snapshots of her life, an observer alongside her reflections.
Somehow both first and third person narration fit together effortlessly in this book, adding to the poetry of this story. Ultimately it is about love in all it's forms, and for Deborah a lot of those forms were expressed (or suppressed) through sexuality.
I loved the poetry of this book. Sometimes sentences were as short and sharp as a tack, at others they were long winding roads of emotion and memory mixed together. Reading My Hundred Lovers is like having a conversation with someone, hearing about the things that have and still do affect them.
Nothing is out of bounds here, either. Taboo subjects are part of the reflective process Deborah is going through, adding to the sense of honesty that can come with age.
But what strikes me now, as I write this, is that there is something so transient about age. We talk about "coming of age" as something that happens in your teens or your twenties, when really, you can come of age at fifty (and that is what I think happens for our protagonist here). While we think of "coming of age" as one stage in life, to me it's about coming into your own at any age. At fifty, you have a different perspective to things compared to when you are twenty. The same could be said at thirty, eighty, sixty-five.
What this book really made me see is that age doesn't have to be just a number: it's about the stage of your life that you are in at any given time, and how you accept and address that. It's about your relationship with your past and present, about accepting change and realising what you once were doesn't have to be what you are now. And that is a beautiful thing.
Filed under: Literature, Review Tagged: age, Australian literature, coming of age, get reading, love, My Hundred Lovers, sexual sense, Susan Johnson