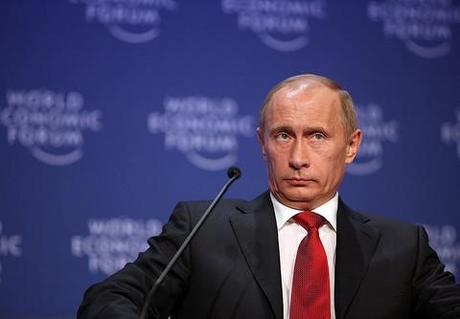 Vladimir Putin is the new Chuck Norris. Photo credit: World Economic Forum
Russian Prime Minister Vladimir Putin hasn't formally declared his candidacy for the Russian presidency, but several signs are pointing to an announcement soon. Signs like naked Russian women.
According to recent reports, attractive young women across Russia are joining "Putin's Army" and tearing off their clothes in support of Putin's putative bid for the presidency. The Independent explained that the new campaign, unveiled in an online video, asks young women to "tear off something for Putin" and post their own videos of said tearing online. The best tearing will win an iPad2 and possibly offers for parts in porn films (okay, maybe not porn offers).
It's not clear who is behind Putin's Army, which lives on popular social networking site Vkontakte and whose organisers claim they are "ready to kill" for the leader, but The Independent claimed that the slick video "bears the hallmarks of one of the pro-Kremlin youth organisations such as Nashi". (Editor's Note: Skip to the end of the video for boobs.)
Don't speak Russian? Global Post has a translation of what "Diana", the "student" in the video, says, including, "He's a chic man. He's Vladimir Putin."
Putin dominates the political scene in Russia: He held the presidency for eight years up until 2008, when a constitutional two-term limit forced him to step aside, and has since then held the position of prime minister. Considered more powerful than his former protégé, Dmitry Medvedev, Putin hasn't moved quelch rumours that he may again for the seat next year. Putin's naked lady Army follows several other promotional events that involve not wearing clothing: Earlier this year, Putin fans hosted a "Putin Party" featuring strippers singing along to the Prime Ministers's version of "Blueberry Hill". Really.