If you shop at Walmart even once a month, you should download the Walmart app so you can use the Savings Catcher. It's worth it! It price matches for you so you don't have to worry about if you're getting the lowest price. The app is super easy to use. Once you log in, just click on the Savings Catcher button.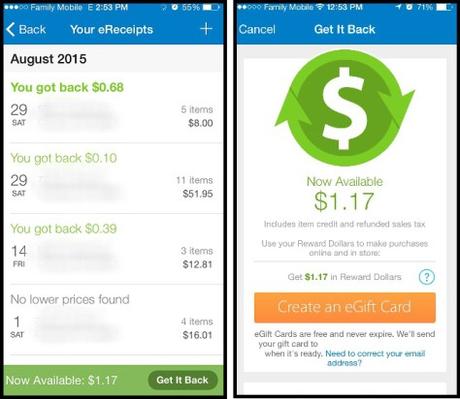 Within 4 trips to Walmart the Savings Catcher found me money on 3 out of the 4 trips. I spent a total of $88.77, got $1.17 back, and that was only after a month of using the app. That may not seem like much, but when you consider what I did to get it, it's pretty awesome. I didn't go out of my way to flip through weekly flyers or clip coupons. The scanner for this app is convenient as well. There is no need to take multiple pictures to piece together a long receipt. Simply focus on the bar code or QR code (square looking patterned thing) at the bottom of your receipt and the app will record every item on your receipt.
Savings Tip:
To optimize your savings, use the Walmart app in conjunction with the Receipt Hog and Ibotta apps. Receipt Hog gives you points towards cash just for scanning your receipt. Ibotta has rebates that you can get after your purchase. This means the Walmart Savings Catcher will search for the cheapest price in the area and not take the Ibotta rebate into consideration. With a Walmart receipt you have the chance of getting cash back 3 different ways! Possibly 5 if you are able to use Shopkick to get walk-in points or scan items and if you buy something that is listed on Checkout 51! In other words, not only is Walmart probably your cheapest option for shopping, but you're able to get the most savings out of a trip to Walmart as well using the mentioned apps. For more on Checkout 51, Ibotta, and Shopkick checkout my review here of those apps.