Do you want to shed some kilos?
Trying to get into your favorite dress without any luck?
Can't get rid of your flabby tummy?
I can almost see most of you mommies shake your heads emphatically while screaming "YES!"
So what is stopping you from leading a fit life?
Before you answer, let me guess the answers.
You may have a small baby.
You may be working or you may have a family that needs you.
There is an event in the family, or your child hasn't started school yet.
Right?
But the harsh truth is that it is not your family or a commitment that is preventing you from becoming fit. You are the only one standing between your health and fitness goals and no one else.
Another reason why we neglect self-care is for a lot of us, getting fit is not what we want. Instead it is something our husband wants or mom/mom-in-law told us to do.
Many moms come to me saying that their husbands say that they don't look good anymore. "What do they understand about running a family, it is easy for them to say!" laments a mom.
I know some of you may think, "I understand completely" and some may even cry out - "story of my life!"
Trust me when I say this - I had been there - done that!
Broken resolutions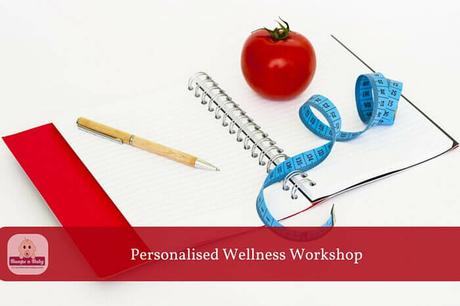 While some moms lose hope and surrender themselves to the piling kilos, some moms spring into action! These moms are usually at their most active in the beginning of the year.
They would have made a resolution to lose weight and would have started with a diet plan or even joined a gym. They would stick to their goals but many lose steam around the second week of the New Year.
Some may go on for a month or two before giving up.
You may laugh and say resolutions are meant to be broken, but somewhere there is a nagging guilt.
Crash Diets
The next phase sees you googling weight loss diets that promise a weight loss of 5-6 kilos in a week's time(Gasp).
There are also miracle waters that will help you shed kilos. Amazing isn't it? It is almost like there is a God who understands the fact that we don't have time to do exercises and follow a healthy routine. In fact it is a miracle if we get to eat anything on time at all.
So if there is something like this, why is it that there are many people who are still overweight and have lifestyle related diseases?
If losing weight was as easy as popping a pill, then it would make all our problems go away right?
The way out of the rut
The reason that many of us falter is because we lack the motivation to stick to our fitness goals. Another reason is the fact that we look for shortcuts or easy results.
I hate to break it to you but it doesn't come easy.
But I can help you out. I am not going to offer you any magic pills, crash diets, water, but something that will help you become healthier, stronger, fitter, leaner and energetic - with added benefits of glowing skin and superb hair!
It is an Online Holistic Wellness Workshop 'Get Fit with Sangeetha' that is tailor made to suit the requirements of the participants!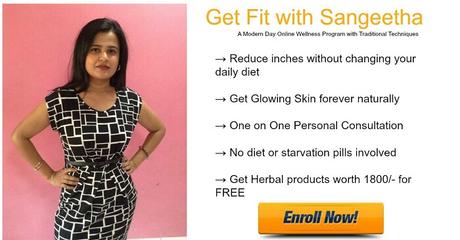 You and I, will work together to achieve the health goals that you felt were unachievable. As I said before, it isn't an easy task, but together we will make it work.
Features of the program
I am not looking for a run of the mill wellness workshop nor will I give you an exercise chart printed off the net.
Instead we will have a long and open chat where you tell me everything about your lifestyle, eating habits, favorite food items, current weight, desired weight, challenges faced etc.
After that I will analyze it and offer you a modified diet plan. Don't worry, I will not ask you to undergo a crash diet or give up completely on chocolates, ghee, paratha etc.
I will also help you with exercises that will help you burn some calories and increase your strength.
If you are one of the moms who cannot access the gym or have a child who needs attention, do not worry. Just let me know and I will add exercises that can be done at home and doesn't involve a visit to the gym at all!
There will also be a diet recall where we discuss what we did on the previous days.
I will also discuss a skin, hair and body care regime that is suitable for your skin and hair type. You will also be gifted a personalized 100% natural skin and hair care hamper worth Rs. 1800/- from me.
If you need me to create a Whatsapp and Facebook group, let me know so that I can set it up too.
Since it is a one-on-one workshop, we only have 20 seats available so that I can give personal attention to all the participants.
Will it work?
Here are some of the amazing feedback from the previous challenge I had organized.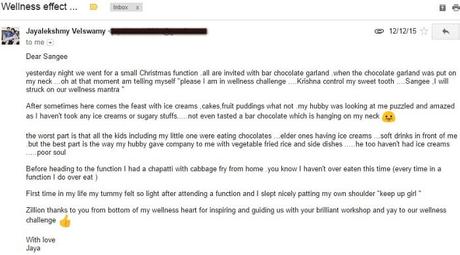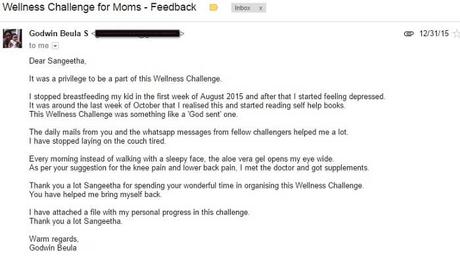 This holistic wellness program is not just about attaining fitness goals, but also a lesson in taking care of you. There is nothing selfish in that.
In fact, think of it this way, how can you take care of your family if you yourself aren't healthy? Being a mom means being a role model too, you cannot expect your kids follow a healthy lifestyle if you yourself don't follow one.
Don't worry though, I will be there at each phase of the workshop to guide and motivate you.
So moms are you ready to transform your life? Do you want to be healthy?
This wonderful opportunity won't cost you big bucks but will leaving you looking like a million bucks.
The cost of this workshop is Rs. 2999/- for Indian residents (mode: Either bank transfer or online payment: https://www.bumpsnbaby.in/product/get-fit-sangeetha-wellness-program-online/
For those residing outside India, the charge is Rs.2999/- plus International shipping charges (mode: bank transfer only)
Payment details for bank transfer:
Name : SANGEETHA R MENON
Account No :5651087114
IFSC Code :CITI0000036
Branch details: CITIBANK NA, ANDHERI, MUMBAI
Here is the registration form you need to fill up after the payment is done: http://goo.gl/forms/rGwkfI5bIJtxpFVw1
If you are interested to attend this program, but the dates don't work for you - no worries - you can do the payment and let me know your preferred month for the program. This will help you to keep the seat reserved for that month.
I have seen gyms offer money back guarantee if you don't attain your desired goal. In this case I am leaving the guarantee factor to you. If you don't feel satisfied till 3rd day of this program, I will return you the fee 🙂
Hurry though, as I said before, the seats are limited. Only a lucky few, 20 to be precise will get to be a part of this workshop. And they will be gone before you know it.
You know what they say, the early bird catches the worm.. Hurry!!
If you have any doubts, feel free to write to [email protected]