In a career that has spanned more than two decades and includes big hits, fan favourites, awards, and critical acclaim, Doc Walker has done it all.
But they aren't done yet.
We spoke with Chris by phone last week to talk about their new single, their upcoming acoustic tour, social media, memories, and more. We also played a round of 5 Quick Questions that you can find near the bottom of this post.
With the release of their latest single, Get Back On My Horse, the Canadian Prairie country band has hit another home run. From their 2017 album, Weathervane, Chris Thorsteinson and Dave Wasyliw get right to the storytelling, and they nail it.
Chris told me that the rodeo scene is a big deal in their area at home, and the get back on my horse mentality goes with that. And at its most simplified, the meaning of the lyric goes to the heart of rodeo. Get thrown off, get back on and ride again. But in the song and life, it's a little deeper.
We talked about getting older, getting further away from our twenties when everything just always seems to work out, and the reality of the fact that life starts to get real. There's more to worry about, there's more to deal with, and as Chris said, life starts to hit you with a few more jabs and right hooks. And in those moments, this lyric and song title come to life as a metaphor that we (at some point) can all connect with as we get back on our horse.
And if the song is deep (which it is), the video adds another layer completely. The black and white images of people in various emotional states, holding photos of loved ones lost hits hard in the best ways.
As we talked about Get Back On My Horse and storytelling songs, we started talking about the upcoming Acoustic Songs & Stories From The Heartland tour that kicks off at the end of January. Chris said that he loves the format of being able to take time to introduce the songs and the stories that go with them. We brought up previous tours from Paul Brandt (Small Towns And Big Dreams) and the upcoming Dean Brody Dirt Road Stories tour as examples of fans having the chance to enjoy the music in that environment.
But it was a smaller scale event that Chris talked about that will stick with us for a long time. He talked about going down to Nashville years ago and staying with Canadian singer-songwriter Deric Ruttan. On one trip a group of friends and artists sat out back singing and playing and telling stories. In that group was Mark D Sanders, an accomplished songwriter with hits like George Strait's Blue Clear Sky, Paul Brandt's My Heart Has A History, and Leann Womack's I Hope You Dance (one of the best songs ever written in Chris's opinion) to his credit. It was a song that he didn't like going into the night though that really caught his attention. Chris told us that he'd never been a fan of Alan Jackson's Little Bitty, that it never connected with him. But that night, with Sanders there to strip it down he became a fan. He got it. And that's what he hopes Doc Walker can do on their 2019 acoustic tour. If the band can connect with the audience and show off the true, raw power of good songs, he believes that impact can be huge.
On our call we also talked about how much things have changed in the more than 20 years since Doc Walker started out in Canadian country as celebrated indie artists. We chatted about the advent of social media, and how when done right it can bring fans closer than ever on a more regular and widespread basis than a touring schedule might allow. He also talked about the process of the industry and told me that he still remembers, being handed a cassette with the demo of Rocket Girl as they prepared to play a show one night. Those were days before Jason McCoy could have emailed them the song that I think about when I think about Doc Walker.
I asked Chris if he ever takes the opportunity to look back on a career that now includes radio hits and fan favourites that have influenced current artists in Canadian country. He told us that he recently spent some time in the studio going through old stuff and put on Doc Walker albums that were there. And as he listened, he realized that there have been some really good songs over the years.
We could have told him that.
Before we wrapped up our call, we took a few minutes to play a round of 5 Quick Questions with Chris. Check that out, go listen to Weathervane and the outstanding Doc Walker library of songs, and stay tuned for more from the band.
As we said, they aren't done yet!
5 Quick Questions with Doc Walker
1. If you were on a long drive and could only listen to one album the entire trip, what album would you choose?
Chris told us that there was a time in his life when The Lonesome Jubilee cassette was stuck in the player of his truck, so he heard it a lot. But that didn't ruin it for him. Sometimes he says that he still puts it on and gives it a spin!
2. Do you remember the first album you bought for yourself?
3. Do you have a dream collaboration?
Chris. KD Lang or Lyle Lovett.
We heard a quick story about Doc Walker watching KD Lang play from, side stage one night, and being able to say hello after the show. Chris said it was like magic.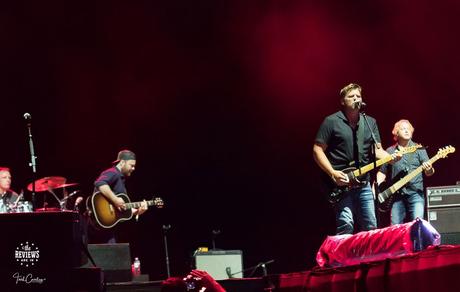 4. Do you have a dream venue or favourite venue?
Chris. Winnipeg's Winspear Centre.
The Francis Winspear Centre for Music opened in 1997, seats 1,716 and looks amazing in photos. Chris told us that it's a great venue to play and that they love it. The theatre feels small, the atmosphere is great, and the sound is right. He added that between songs when the sound is down, you can hear someone in the balcony talking to the person beside them. The acoustics must be near perfect.
5. Is there an artist that you think people should be listening to more?
Chris. Dan Seals. This is an oldie but a goodie type pick. Chris thinks people should be going back to listen to the Dan Seals catalogue.
Big thanks to Chris for taking the time to chat. We're looking forward to 2019 and the Acoustic Songs & Stories From The Heartland tour. If Doc Walker is coming to a theatre near you, get a ticket and enjoy the show!