Killer Discount on the Spy App TheOneSpy – Find Out What Your Lovers and Loved Ones Are Up To Anywhere in the World
Get a Blockbuster Smashing 50% discount on TheOneSpy this Valentine's and Spy on People. Find out who is doing what. TheOneSpy Makes it all Possible to Monitor and puts every kind of Android Mobile Device under Surveillance.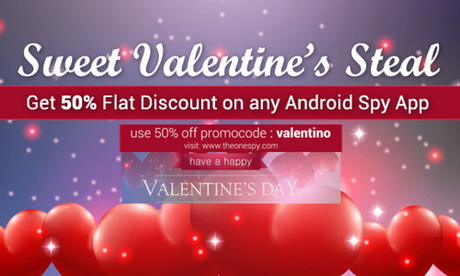 Valentine's Day Special offer: 50% straight off for the premier package download of TheOneSpy (TOS) for the Android devices, Use the coupon code "VALENTINO." Take action now to redeem the coupon code; the offer lasts for two complete days starting from 14th February 2018 to 15th February 2018.
Surprise your lovers by telling them what they were up to by bugging and tapping their mobile phone devices with TheOneSpy (TOS) or just find out if your kids under eighteen aged teens remain conservative and protective over their highly desirable basic instincts.
TheOneSpy proudly announces its new version 1.3.4.2.  This Valentine's Day is an excellent opportunity for our existing customers to upgrade to the latest version of TOS that has become even more powerful with the release of the following new features.
Spy Call:
Get control remotely over any TOS tapped Android mobile phone device's microphone by just sending a telephonic call over the mobile carrier network the way you usually call someone. The registering of the caller mobile phone device SIM number in the TOS online dashboard will enable you to listen to the target phone without the Internet connection. Mute your mobile phone and spy on the surround sounds and voices picked up by the target mobile phone's microphone.
IMO Screen Recording:
Record the screen activity of the social media app IMO remotely and with complete secrecy on an Android mobile phone device.
Telegram Screen Recording:
Record how and for what purpose a person is using the social media site with this feature named "Telegram Screen recording."
Twitter Screen Recording:
Use this feature to record the activities that take place on the most famous micro-blogging site Twitter on the mobile phone device.
Zalo Screen Recording:
Find out who is doing what on the social media site Zalo by capturing the mobile device screen.
These are the newest features being released on Valentine's Day.  Act now and use the coupon code "VALENTINO" to download and enjoy TheOneSpy that is already loaded with more than 250 features which are the highest number of features compared to any other leading spy app on the market.
It can dramatically enhance your spying, monitoring and surveillance experience to many folds. TheOneSpy app was developed initially to keep watchful surveillance and monitor over kids and teenagers alike for their security and safety. TOS development expanded and found other applications such as monitoring and supervision of employees at the workplace. Capturing a Casanova lover red-handed has also been turned into a breeze by TOS. Download TheOneSpy (TOS) now and find out how it can help you.