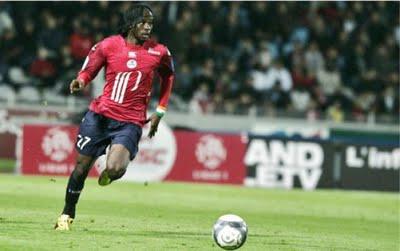 Well it looks as if Arsenal have finally made their first signing. The rumored Gervinho deal has been announced on Arsenal.com and that is good enough confirmation for me to speak on the signing. Personally, I am excited about bringing the Ivorian into the fold. Gervinho is a highly skilled forward who provides some flexibility up front. He can play as a winger and as a secondary striker which is definitely a type of player we can use. This guy has the pace and technique to get by defenders as well as the great goal scoring instincts. From what I have read, the Ivorian will add a bit more directness around the net and will actually take some shots. Gervinho helped lead Lille to the Ligue 1 title a year ago and completed the season with an impressive 15 goals and 10 assists. I don't expect him to replicate those numbers at Arsenal but if he shows the same kind of form that he played with a year ago, Arsenal fans will look at this 10.5 million pound signing as a bargain. It goes without saying that Gervinho will have to adjust to the English game but I hope that he can make an immediate impact in North London.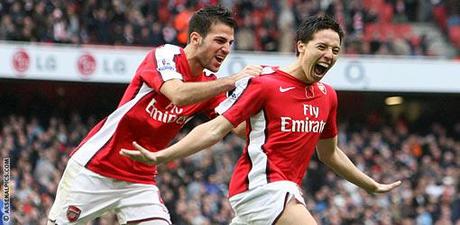 In other news, Arsene Wenger has finally spoken about the rumored departures of Fabregas and Nasri. I have tried to steer clear of the incessant Nasri and Fabregas speculation but there was a point a few weeks ago that many felt that both were gone and there was nothing Arsenal could do about it. Even Zach, hinted at a possible Arsenal "fire sale" which I felt was a bit premature but definitely a sentiment perpetuated in the media. Either way, Wenger has spoken on the matter during the Asia tour press conference. He has insisted that Samir Nasri is going nowhere this season. Wenger reiterated that because Arsenal are a big club and are in great financial position, they will not sell. Apparently he will risk losing Nasri on a free next season. If this situation is just about money then this must mean that Arsenal are willing to meet Samir's demands. Although Wenger is right that they don't need money from a potential sale of Nasri, they do need to somewhat dictate where he can go. Arsene knows how good Nasri can be and he better not let him waltz over to Old Trafford at the end of the season on a free transfer. Once Wenger is able to sit down with Nasri, he will need to convince him that he needs to stay at Arsenal and back that up with a pay raise.


On the matter of Fabregas, Arsene was a bit more measured in his words. He spoke about the fact that the achievement of leading Arsenal to silverware will be much more fulfilling than joining up with Barcelona and riding their coattails. Barcelona don't need Cesc and have made that clear by trying lowball Arsenal. If Javier Pastore and Alexis Sanchez are worth 50 million then Cesc is worth 75 or 80. Obviously Arsenal would never get that number but 35 million is a slap in the face. If Fabregas can find it in himself to stay at Arsenal and lift trophies then he will be wearing the armband next year. Arsene Wenger has proved to be persuasive in the past. At this point, I personally hope they both stay because I don't trust that Wenger will actually buy replacements.