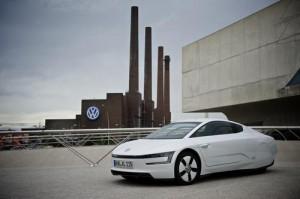 Though Americans frequently look to the European Union as a model to increase vehicle efficiency and regulate emissions, Germany, which is the EU's largest economic power, used its clout to postpone a meeting intended to finalize rules restricting vehicle emissions to just 95 grams of carbon dioxide per kilometer.
The measure, which would kick in by 2020, translates to 57.6 miles per gallon (mpg) U.S., an increase of just over 7 mpg compared to the EU's current 2015 mandate. For comparison, the U.S. is aiming for 54.5 mpg under the CAFE structure by 2025. The EU system is weight-based, which permits some leeway, but the proposed standard is still an aggressive target. In terms of emissions, the 2020 carbon cap is 27 percent stricter than the 2015 cap of 130 grams of CO2 per kilometer.
For this reason, Germany's Chancellor Angela Merkel and lobbying groups have delayed finalizing the new carbon cap. The country's auto establishment, including BMW and Volkswagen, have argued the standard is too rigid and could endanger domestic manufacturing. On the flip side, the Guardian cites Cambridge Econometrics as finding that the proposed target would save Germany $9 billion in fuel annually, while mitigating nearly $95 billion throughout the EU each year.
Aside from the compromise that will have to be negotiated in Germany, this news raises a couple points for the U.S. For one, it puts our own fuel efficiency target in perspective. E&E Publishing says that the 2020 EU standard equates to roughly 60 mpg on the CAFE scale, which means that the EU could theoretically be five mpg more efficient five years earlier. I think given how far behind the U.S. is, this isn't horrible, though it creates some uncertainty in my mind as to how long the United States will be able to push fuel economy in the presence of relatively cheap gas and presumably decreasing transportation costs. It also shows that while technological barriers exist to increasing fuel efficiency, they might not be as restraining as some opponents to CAFE would have you believe.
Image by VW