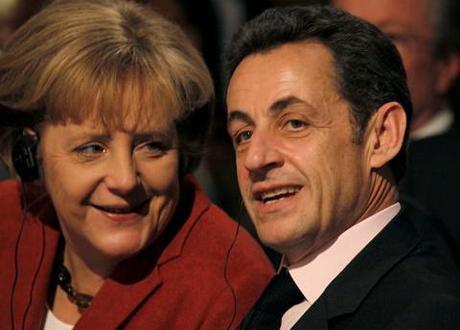 TFrench President Nicolas Sarkozy and German Chancellor Angela Merkel. Photo credit: Sebastian Zwez
Ahead a crunch-time summit meeting in Brussels to figure out exactly what to do about Greece's dangerous debt crisis, France and Germany announced that they have agreed on a proposal for a rescue plan. A new bailout plan, which has been a rather more an eventuality than a possibility in recent weeks, would supplement the €110 billion rescue package the indebted nation received last May.
The two powerhouse eurozone nations refused to disclose details of that plan ahead of the Thursday meeting, but statements from both camps indicated that they had "listened" to the opinions of Jean-Claude Trichet, head of the European Central Bank who "unexpectedly" joined the meeting, and Herman Van Rompuy, the president of the European Council who spoke with the leaders by phone. Reports in The Guardian suggested that they agreed to a "compromise" on the losses that Greece's private creditors would take in a new bailout plan, and the Financial Times reported that French President Nicholas Sarkozy agreed to drop his unpopular bank tax proposal in the face of German Chancellor Angela Merkel's strong objections. (The bank tax proposal was unpopular both with Germany and the notoriously conservative editors of The Wall Street Journal, who penned an editorial on Thursday slamming the proposal as "just about the worst way" to finance another bailout.)
That leaves the way open for the German-backed bond swap plan that could see Greece selectively defaulting on its debt, though the Financial Times also reported that "officials who have seen the Commission plan said it would come up with additional funds to recapitalise Greek banks, which are heavily reliant on Greek sovereign debt as a capital base." Trichet, however, had been a fierce critic of any plan that would see Greece even temporarily default and he was present at the last-minute meetings – meaning that until they formally announce their proposal, no one really knows what it might contain.
What is clear is that the very future of the euro hangs in the balance. That much was made clear by 13 leading European economists, who warned in an open letter to European leaders, "For the first time, the very survival of the euro is at stake."
Markets nervous. World markets were skittish on opening Thursday morning: The euro clung to its gains of the previous day, but stocks fell slightly at opening and seem to be in for a bumpy day. "France and Germany striking an accord is very good news for the eurozone and is what we have been looking for and it has been greeted quite well," said Will Hedden, sales trader at IG Index, told The Guardian. "But the risk of contagion still remains, the Greece problems has not really gone away, just been brushed aside."
'Perfect storm' of debt crises. "One perfect economic storm in a generation should have been enough to forearm our political and business leaders against another bursting on our heads," moaned The Guardian, in an editorial Thursday. "Yet Europe is now bumping and bumbling its way towards a terminal crisis that could bring down the common currency, while politicians in the United States are playing dangerous games over the issue of the federal debt ceiling." The two issues are unrelated, but combined, could make for a financial Armageddon. Germany needs to suck it up and acknowledge that what's needed is "debt reduction in Greece and other insolvent countries, with a consequent recapitalisation of the banks affected by that reduction, followed by joint action to support Italian bonds and, probably, the issue of eurobonds." And America just needs to get its act together – fast.
Where does everyone in Europe stand on the Greek bailout? The Telegraph claims to know.
They'll reach a deal – but will it be the right one? "I am not worried that the eurozone's leaders will walk away from Thursday's summit without a deal," declared the Financial Times's columnist, Wolfgang Muncchau. "What I am worried about is that everybody will get obsessed with some obscure technicalities of a deal – that ultimately falls short of solving the problem. The eurozone would not survive such a failure." Little Greece, he says, is a just a "side-show" to the bigger problem: Rising market interest rates in Italy and Spain, two much larger countries in the eurozone. What needs to happen is an increase in the size and flexibility of Europe's financial rescue mechanism, coupled with a sustainable programme for Greece, in part of stop the contagion.
Nick Clegg says we need a "prosperous" eurozone:

Recriminations all around. Dealing with Greek's debt crisis is a contentious issue and now, politicians are using the crisis and its handling as a political cricket bat. Ed Balls, Labour's shadow treasury accused Tory Chancellor of the Exchequer, George Osborne, of a "failure of leadership" ahead of the crunch time summit in Brussels, claiming that Osborne's hands-off approach meant that one of European Union's three biggest economies wasn't involved in resolving a crisis that would deeply affect it as well. "At a time when leadership is needed, the UK government should be in Brussels leading the way," The Guardian quoted Balls as saying. Balls added that history will not look back on this episode kindly, explaining that people will ask, "Where was the prime minister and chancellor, why weren't they setting the agenda?" Osborne, for his part, urged eurozone leaders to "get a grip", warning that a failure to rein in Greece's debt could result in a financial meltdown as devastating as 2008's banking crash.
More on the eurozone meltdown

The future of the eurozone is in Germany's hands
Bank stress tests
Eurozone wobbles
UK needs to get positive
No end in sight in US debt ceiling debate