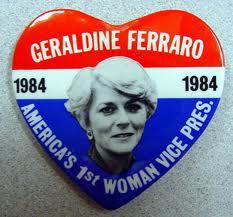 In today's 24/7 news cycle, it's old news now that Geraldine Ferraro died on Saturday. Some remember who she is only marginally, as Walter Mondale's Vice Presidential nominee/running mate. Some don't even remember her at all. But I wanted to dig a little deeper – her leadership and determination has inspired me for years, and I feel like it would be a shame to let her passing go unnoted.
Ferraro grew up in Newburgh, NY until she was 10, when her family had to move to the Bronx due to financial issues. She became a school teacher because she felt she had to since "that's what girls did". Ferraro was a true victim of limited roles of leadership and opportunities for women – it was a struggle she felt personally, one that had a real meaning and a true history to her. Ferraro kept her maiden name publicly after she married to honor her mother's commitment to her family; and her work as a Lawyer, in the NY District Attorney's Office, and in the House alone makes her an impressive figure.
Ferraro's 1988 Vice Presidential nomination was ground-breaking – she was the first woman to run on a major party national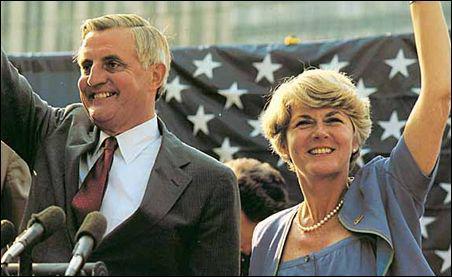 ticket in the US. She shattered a major glass ceiling for future generations of women and girls, and for that I am forever grateful.
Ferraro continued to be a role model for women and girls in leadership – becoming a celebrated speaker and writer, running for US Senate Primary in New York in 1992 and 1998, being appointed by President Clinton as a member of the US delegation to the United Nations Commission on Human Rights in 1993, and co-founding the National Organization of Italian Women. Ferraro never gave up, never told herself that any one defeat was the end of her career.
Many point out her imperfections – her issues with finances in her family, her controversial comments about Obama in 2008 (which I saw her discuss at American University in 2008 – read coverage here). While I can't say that I can entirely discount or excuse those things; I can recognize what an astonishing role model she is to women and girls in America and around the globe. No comments or financial statements can change that.
When Geraldine Ferraro died this past week, she left behind a legacy of women's leadership and political savvy that will left the future generation of feminists with big shoes to fill. The dream of having a woman in the White House still hasn't been realized, but thanks to Ferraro's work, we're 10 steps closer than we ever would have been.