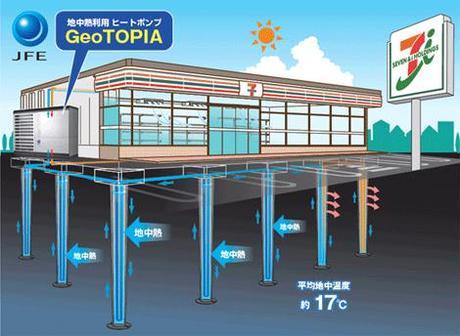 Seven-Eleven is the largest of the combini (convenience store) chains that can be found on nearly every block in large cities around Japan. Selling everything from juice and rice balls to beer and fish, underwear and band-aids, niku-man (meat stuffed steamed dumplings) and adult magazines, the combini is a uniquely Japanese experience. They are also often staffed 24-7. Living up to their convenient name means using large amounts of energy for such a small space.
Seven-Eleven is now going to try to reduce the energy use from the grid and save some cash by testing air-conditioning systems that use geothermal energy. In Japan's first test case for using geothermal heat in convenience stores, three Seven-Eleven stores to open in three regions (9 total) of Kanto, Kansai and Kyushu will experiment with the technology.
According to JFS, "introducing the geothermal air-conditioning system called GeoTOPIA is expected to reduce both electricity consumption and CO2 emissions in the stores by about 30 percent compared with existing levels."
The image below explains the basic idea of the system.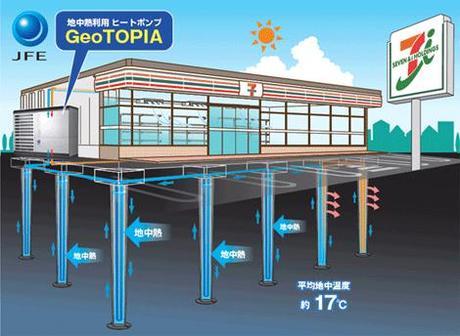 [Image]