It's been sort of a thing to celebrate my nephew's monthsaries (the day of the month when he was born) by eating at a restaurant we've never tried before. Hey, the family that eats together, amiright? It's usually a toss-up between Alabang (where the 'rents and myself live) and Taguig (where the brother and his family live) but these past few months we've been frequenting High Street more because it's just easier to go there after work.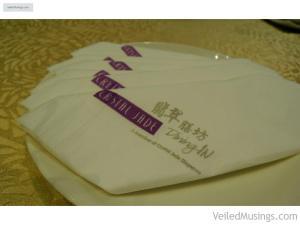 For Genno's 8th month celebration, my mother wanted to try out Crystal Jade Dining In High Street because she was craving some Chinese food. While it certainly looked like a Chinese restaurant on the outside, it was a whole new vibe on the inside. It was sleek and very modern, the high ceilings making the look more spacious than it actually is.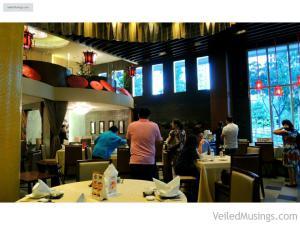 We had the Pork Roll with Crispy Garlic Sauce as an appetizer (although it did take more than a few minutes for this to be brought to the table – we had to satisfy ourselves for the meantime by chewing on boiled peanuts they served). I can't say that this was my favorite; you would think that fresh and crispy vegetables wrapped in what is essentially bacon would be a hit, but I personally found the garlic in the sauce to be too strong. It's an acquired taste, I suppose – my sister in law liked it.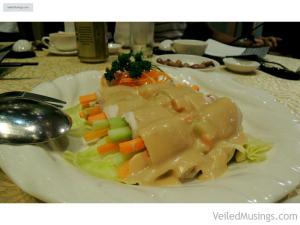 The 'rents had Sweet Corn Thick Soup with Egg White & Fish Paste while my brother and sister in law had the Spicy & Sour Seafood Soup in Sichuan Style. I didn't get to try either of the two bowls but they both said the servings were a little bit pricey at 280PHP per single serving.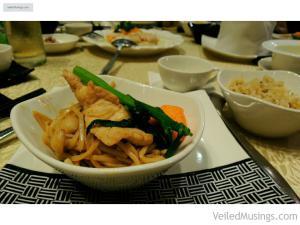 they serve it like this~
As per my brother's request, we had two orders of Yang Zhou Fried Rice (which goes to show that we did like the rice) and an order of Birthday E-fu noodles (which were extremely good).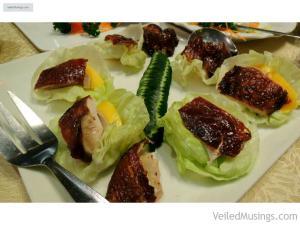 it sounds weird, but it works
A meal with my brother wouldn't be complete with some sort of chicken dish. In this case we had two types – the Fried Crispy Chicken with Goose Liver & Mango Sauce and the Crispy Chicken. I didn't think that the Goose Liver & Mango would work but it was actually my favorite dish that night. I just wish that they dressed the chicken up a different way; it was definitely the same Crispy Chicken.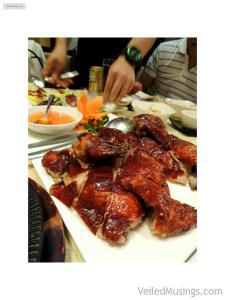 And it wouldn't be a Chinese dinner in my house without the Sweet & Sour Pork and Braised Beef with vegetables. They were okay – the Sweet & Sour was a bit too sweet because of the pineapples.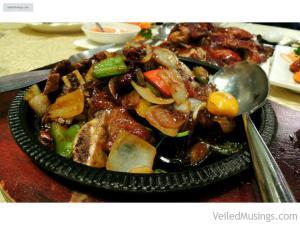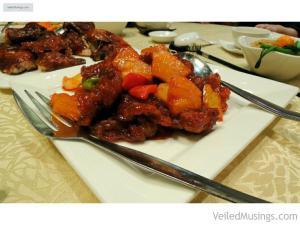 I had a glass of their fancy tea and because Chinese New Year had just passed, they had a promo where we could get this adorable stuffed monkey for a minimal fee.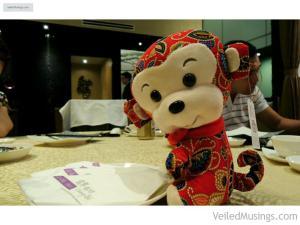 My nephew was amused by this for like five minutes
The staff was courteous and friendly, but there were times when we had to call their attention more than once to get them to come over to our table.   They did, however, throw in for free a Longevity Bun (?) with mango custard when they learned that it was his eighth month celebration. They even lit a candle so Genno could pretend to blow the flame out.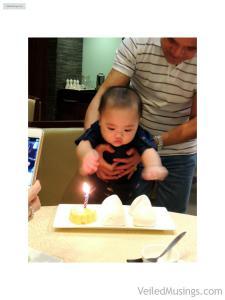 All in all, while Crystal Jade Dining In is a nice place to have a quiet family dinner, I don't think I'll be coming back here any time soon. The food isn't the best Chinese food I've had and service, at times, were a little bit slow. It's also one of the pricier restaurants in the area and I guess we were expecting more for our money.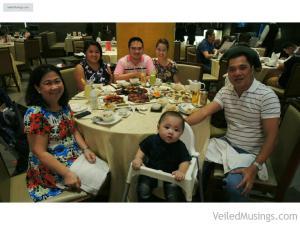 VeiledMusings and Family in Crystal Jade Dining In
Crystal Jade Dining In
Bonifacio High Street Central, 30th street cor 7th avenue
Bonifacio Global City, Taguig
02 8085233/ 02 5198191