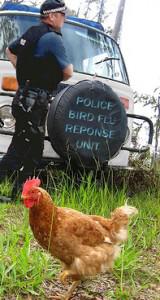 In an unprecedented move, the U.S. Government announced on Tuesday that it had not only sponsored research to figure out how the deadly bird flu virus might mutate to become a bigger threat to humans, but also implored two institutions who met with some success not to publish details of their findings. The concern, according to Dr. Anthony Fauci of the National Institute of Health, was that the information would get in the hands of bioterrorists. 
Both Erasmus Medical Center in the Netherlands and University of Wisconsin researchers agreed to eliminate specifics in their upcoming reports.  Biosecurity advisers to the government recommended that the journals Science and Nature publish only the general discoveries, not the full blueprint for these man-made strains. 
Characterizing it as a "watershed moment", the editor in chief of Science, Dr. Bruce Alberts, added that his staff encouraged the U.S. government to establish a mechanism whereby credentialed international researchers could get information on these lab bred strains- especially in bird flu-prone countries like China and Indonesia.  He added "it's believed to be the first time this kind of secrecy has been sought from legitimate public health research." 
H5N1 has been responsible for isolated outbreaks primarily in chickens in a number of countries over the past ten years. Rarely does it infect people who have been in close contact with infected poultry, with the outbreaks primarily in Southeast Asia. It is known to have sickened only 600 people in the past decade, but the mortality rate is almost 60%, making it the deadliest influenza on record. These statistics demand that every threat be handled aggressively. For instance, earlier this week Hong Kong officials called for the culling of 17,000 chickens after a chicken carcass tested positive for H5N1. Additionally, they have banned imports and the sale of live chickens for three weeks and have raised the city's flu alert system to serious.
The new H5N1 strains genetically engineered separately by Erasmus and Wisconsin researchers are spread easily among ferrets, which transmit the influenza virus in a manner very similar to humans.
Most scientists agree that the bird flu virus may someday mutate without the help of human scientists and cause a major, deadly pandemic.  The research community is very concerned that genetically engineered bird flu strains, developed in good faith by experts, may either escape from the lab or fall into the hands of bioterrorists.  Dr. D.A. Henderson of the Center for Biosecurity of the University of Pittsburgh Medical Center commented "Influenza is certainly a unique beast in its capability to spread. The question is how we can assure experiments like this really aren't done in ways that the organism is apt to escape."
Photo by karlequin.