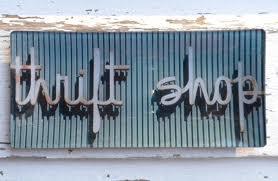 Going to the thrift stores or vintage stores is something every true fashionista should consider.  I know, I know, these clothes might have been worn by someone else, but there is nothing a little laundry detergent can't fix.  Here are some general tips I have learned throughout my thrift shop adventures.  These are the rules I always keep in mind when I go to a thrift or vintage store!
1. Look through every rack, even though some shops have sized racks, there are always things people have grabbed and put back incorrectly, or that were merely put in the wrong place.  I often find items that I love hiding in other places around the store.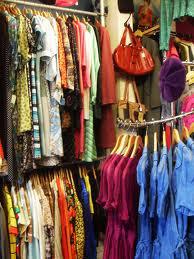 Don't assume that sizing is universal.  Especially in vintage clothing, sizing is different.  Think of your favorite stores, even there you probably wear several different sizes because the way each brand does their sizing is different.
Don't ever assume something will look good or will not fit you.  Try everything on.
If you like something, throw it in your cart or shopping bag.  At the conclusion of your trip, if you still don't love it.  Put it back.  Don't ever leave something you may like on the rack.  Just throw it in your cart.  You can always let it go later.  But if you leave it, someone else may snap it up.  These are all essentially one of a kind items in thrift stores.
If your thrift shop has a return policy (for example, Goodwill lets you return items with the tags still attached up to 7 days later) and you have not worn or thought about wearing your thrift shop find on day five or six. Return them so someone else can find your rejected jewels.
Try to find out if the thrift store or vintage store has a sale day.  Most stores have a day where everything is 25-50% off or certain items are on sale.  This is a great day to go and find things you were already going to buy anyways, at a much more inexpensive price!  If you live nearby a thrift shop, you can go several times a month on sale days and find amazing things and different inventory each time.
Know your general prices.  If you are looking for something specific, research a bit prior to starting to look around for that item in earnest.  If you have no idea what it should cost, you will never know if you are getting a good deal, and that should be at least one goal in the front of your mind.
Always be open to repurposing items you find in thrift stores.  For example, an old vintage table cloth can be cut into pieces and made into a cute quilt or a table runner.  The sky is certainly the limit.  Finding items that can be created in conjunction with other materials or make into something else entirely is truly the most unique nature of thrift store creativity.
Some items may not be perfect, but they are easily fixed with a needle and thread or an inexpensive trip to the tailor.
Finally, be creative.  These items are often rather cheap compared to designer retail stores, so keep an open mind.  You aren't spending an entire paycheck, be creative.  Open your mind.  Buy something you thought you might never have purchased and try your best to work it into your wardrobe.  Let me know how many compliments you get on that single piece you have integrated.  Then. Do it more.  Creativity in fashion is beautiful and noticeable.  Differentiate yourself.