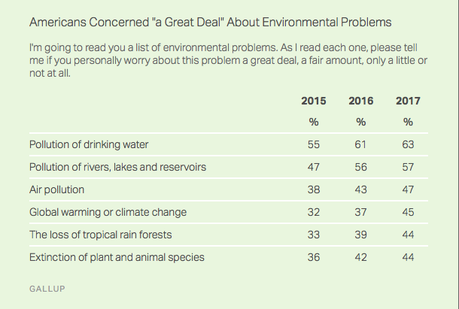 Donald Trump doesn't seem to be worried at all about the environment and keeping it clean for everyone. He has put an EPA-hater  in charge of the Environmental Protection Agency, and proposed cutting funding for the agency by around 25%.
This flies in the face of the general public's view on the environment and pollution. About 63% of the public say they worry a great deal about pollution of drinking water -- and 57% say they worry a great deal about the pollution of rivers, lakes, and reservoirs. Those are significant majorities.
In fact, those who worry a great deal has increased each of the last three years regarding all aspects of the environment -- 8 points for pollution of drinking water, 10 points for pollution of rivers & lakes & reservoirs, 9 points for air pollution, 13 points for global climate change, 11 points for loss of tropical rain forests, and 8 points for extinction of animals/plants.
Once again, Trump is following a policy that goes against the wishes of most Americans.
The chart above is from three years of questioning by the Gallup Poll -- the most recent being done between March 1st and 5th of a random national sample of 1,018 adults, with a 4 point margin of error.