Hello all,
In February, GBPSGD broke through major support in the region of 1.9300 – 1.9400. To put this significant move into perspective, GBPSGD has been in a long-term downtrend because of a strengthening Singdollar. In recent years, 1.9300 – 1.9500 provided us with a strong floor. But this floor caved in, and GBPSGD fell down to the 1.8600 region in weeks.
GBPSGD's decline slowed in the last few weeks, and a typical pattern emerged. GBPSGD made two dives to form a classic "W" pattern. The double bottom is not symmetrical, but a lopsided pattern works fine too. Right now, GBPSGD is testing the neckline of the double bottom. For a swing trader, what I see now is a simple correction from the sharp pierce of the long-term support (red line). How far and long will the correction take? It varies a lot so there is no definite answer except to wait and let the market run its course. If you use the pattern for a target, the correction should go as high as 1.9200 – where the 50-day MA is. This double bottom can also be seen as a broadening wedge pattern. Usually, such patterns come with indicators painting very bullish convergence signals. What this means is that while price makes a lower low (hence the lopsided double bottom in this case), indicators are making a higher low. This is a bullish indication.
So, I think I have a strong case for near-term buying pressure in GBPSGD. However, I am thinking of a long-term position trade on continued strength of the Singdollar against the pound. As such, I am looking at this as a window of opportunity to build a short position. Let us see how this goes.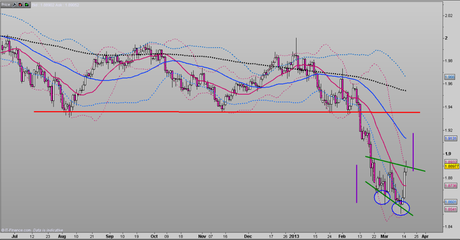 All analyses, recommendations, discussions and other information herein are published for general information. Readers should not rely solely on the information published on this blog and should seek independent financial advice prior to making any investment decision. The publisher accepts no liability for any loss whatsoever arising from any use of the information published herein.