Happy Halloween! Although it's one of my favorite holidays of the year (nothing beats trick or treating and falling asleep with chunks of Kit Kats melting in your mouth), I never got around to putting together a costume this year as my mind has been elsewhere. So, at the last minute, I came up with a DIY "punny" (funny + pun) costume that will be revealed on my Instagram later today.
If you're not dressing up this year, I urge you to wear a little pink today in support of Breast Cancer Awareness Month. Pink October ends today so let's seize the opportunity to promote a wonderful cause!
Here is a chic, stylish, and versatile outfit idea for Pink Halloween!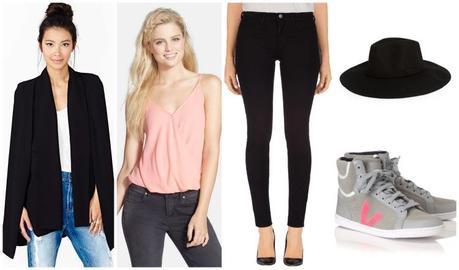 {Elliatt Cape Blazer $150}
{Lush Tank top $30}
{J Brand Skinny Leg Jeans $150}
{Tildon Wool Fedoral $38}
{Veja Oxford Grey Pumps via Avenue 32 $64}
And if you want to go the extra comfy route, switch out the blazer cape for this sweatshirt from Avenue 32 which is literally warm and fuzzy.

{live fabulously}